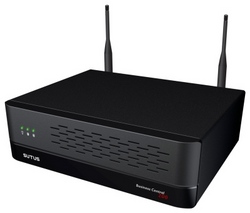 SimpleSignal is one of the fastest-growing Enterprise VoIP service providers in the U.S
Vancouver, B.C. (PRWEB) August 28, 2007
Sutus Inc., a leading manufacturer of converged Phone, Data and Networking solutions designed specifically for Small Business, today announced the integration of SimpleSIP™ Business SIP trunking Services from Simple Signal with the Sutus Business Central™ product line.
SimpleSignal SimpleSIP™ SIP trunking and the Sutus Business Central™ small business appliance deliver a turnkey, fully integrated, IT and Telephony solution. By combining the reliability of PSTN capabilities with the cost-savings and advanced features of SimpleSignal VoIP services, Sutus Business Central™ creates a straight forward migration path for small business customers moving from traditional phone lines to VoIP.
Designed for businesses with under 25 employees, Sutus Business Central™ integrates all of the essential IT and communications tools a small business needs into a single, easy to use and manage appliance. It is an enterprise-class phone system with advanced data and networking functions such as: file server, email server, router, firewall, wireless access point, VPN remote access server, automated backups, standard phone line support and or VoIP services.
"SimpleSignal is one of the fastest-growing Enterprise VoIP service providers in the U.S," said Shawn Chute, Sutus EVP, "and with a carrier-grade service designed specifically for small- to medium-sized businesses, SimpleSignal is a perfect partner to deliver VoIP services to the Business Central and our small business customers"
"We were immediately impressed with the Sutus Business Central™," said Dave Gilbert, President/Founder of SimpleSignal, "in a single, extremely easy to use appliance, they managed to integrate everything a small business needs. The Small Business customer is our key focus so we naturally wanted to be part of the Business Central solution."
About Sutus Inc.
Sutus provides small businesses with easy to use and manage, enterprise quality telephone and office network infrastructure solutions. The Sutus Business Central™ is a cost-effective all-in-one solution that significantly reduces the need for third party installation and management. For additional details, please visit http://www.sutus.com.
About Simple Signal
Simple Signal is a facilities-based complete network provider of business VoIP. The company's enterprise-grade service is designed specifically for small to medium-sized businesses, combining voice and data, hosted PBX, long distance and conferencing into one powerful, cost effective communications solution. Delivering more capabilities than on-premise PBX systems, with greater flexibility, simplicity, and personalized service. Now businesses of any size can leverage the power of advanced IP communications technology, improving business productivity, while significantly reducing overall telecom costs. Simple Signal is privately held and headquartered in Dana Point, CA. Simple Signal services are deployed in over 40 states and 6 foreign countries. For more information about Simple Signal, visit http://www.simplesignal.com.
# # #