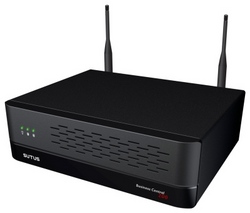 Both NETXUSA and CCP are leaders in their markets and we are pleased to have signed both to lead or market rollout, which is now underway
Vancouver, B.C. (PRWEB) September 5, 2007
Sutus Inc. (http://www.sutus.com)], a leading manufacturer of converged Phone, Data and Networking solutions designed specifically for Small Business, today announced that the Sutus Business Central TM is immediately available for sale.
"This is an exciting time for us," said Shawn Chute, Sutus' EVP, "after a comprehensive and successful beta program with several small businesses, we are pleased to announce that the Sutus Business Central TM is in distribution and to our channel partners in the North American marketplace"
Designed for businesses with under 25 employees, Sutus Business Central™ integrates all of the essential IT and communications tools a small business needs into a single, easy to use and manage appliance. It is an enterprise-class phone system with advanced data and networking functions such as: file server, email server, router, firewall, wireless access point, VPN remote access server, automated backups, standard phone line support and or VoIP services.
"In the US we have partnered with NETXUSA (http://www.netxusa.com)," Chute continued, "a partner that has been servicing the Telephony industry for more than 30 years with a distribution channel of over 5000 resellers. Leveraging both an east and a west distribution facility NETXUSA is a recognized distribution leader in the Voice over Internet Protocal (VoIP) space. For distribution in Canada, Sutus has partnered with Canadian Communication Products Inc. (http://www.ccpin.com) (CCP), a national partner that brings with them over 20 years of experience servicing the Canadian market. They provide service from Vancouver to Halifax and have built their business based on delivering quality products and service."
"Sutus is a welcome addition to our product offering, they provide a fully integrated solution currently not available to the small business consumers," said Rick Boone President NETXUSA. "We are looking forward to working with them to fulfill the needs of not only their Channel partners but also that of ours."
John Racich president of CCP added, "Sutus has built something truly unique which we believe will be well received by the market we service. They have partnered with Polycom which is a leader in the IP handset space to create a simple to use complete phone, data and Networking solution which is needed in the small business market space."
"Both NETXUSA and CCP are leaders in their markets and we are pleased to have signed both to lead or market rollout, which is now underway," closed Chute.
About Sutus Inc.
Sutus provides small businesses with easy to use and manage, enterprise quality telephone and office network infrastructure solutions. The Sutus Business Central is a cost-effective all-in-one solution that significantly reduces the need for third party installation and management. For additional details, please visit http://www.sutus.com. For more information please contact Sutus at (604) 987-8866 or by email at info (at) sutus.com.
About CCP
Canadian Communication Products Inc. (CCP) specializes in the distribution of peripheral products for the telecommunication and computer industries. For 20 years CCP has provided sales and technical support to customers across Canada from offices located in Vancouver, Calgary, Edmonton, Toronto, Ottawa, Montreal and Halifax.
About NETXUSA
NETXUSA, Inc. with distribution and service centers in South Carolina and Nevada is a recognized leading distributor of Voice over Internet Protocol (VoIP) products and services. NETXUSA has a distribution channel of Independent resellers throughout the United States and foreign countries that provide the local end-user installation and support services. NETXUSA provides provisioning and 24/7 support on all products sold. To learn more about NETXUSA, Inc. go to http://www.netxusa.com or call 1-800-BUY-NETX.
###