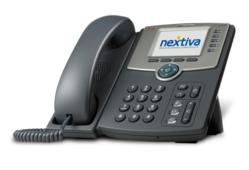 Scottsdale, Az (PRWEB) February 12, 2013
Nextiva, the cloud-based business VoIP services company with 'Amazing Service', announced a key appointment to its executive management team. Dan Heydenfeldt, an experienced executive with deep domain expertise in cloud services and enterprise information technologies has joined as the company's president. The news comes on the heels of a string of successes for Nextiva including "Product of the Year" award from Internet Telephony magazine for the fifth consecutive year and the launch of a redesigned online support center to educate customers how to quickly take advantage of the benefits of VoIP technologies. In his new role, Heydenfeldt will support the company as it executes an aggressive up-market strategy, which includes product, sales and channel expansions.
With 25 years of experience building high performance global sales, marketing and professional services teams, Heydenfeldt has held leadership roles at various technology-centric firms. Prior to Nextiva, Heydenfeldt served as Group Vice President of Emerging Markets at a digital presence management company. He joined the firm when it was a small, privately held company and helped build the customer operations, professional services and inside sales organizations to deliver its cloud-based content distribution services to SMB markets. During his tenure, the company grew 400% while executing a successful IPO. Heydenfeldt developed his Internet communications expertise at this position, where he led the #1 sales teams in year over year customer acquisition and revenue growth. Prior to this role, Heydenfeldt lead North American solutions sales at a technology research firm where he played a key role in growing revenues from $200 million to nearly $1 billion in 5 years.
"Dan brings a very diverse professional background to the Nextiva team, and we are excited about his opportunity to contribute to the business goals," states Thomas Gorny, CEO of Unitedweb. "I am impressed with Dan's experience in serving the small business market as well as enterprise-level organizations across multiple industries. I believe that Dan is the ideal fit for Nextiva based on the company culture and the stage of the business."
"I'm looking forward to taking the reins and working with the Nextiva management team as we execute our strategic plan," says Heydenfeldt. "With year-over-year growth since its inception, Nextiva is well positioned in the market and ready to grow to the next level. Our unified communications technology and services provide an industry-leading platform for small and midsize companies' business VoIP needs. In addition, our commitment to Amazing Service will enable us to deepen our relationships with customers as they grow."
Nextiva is on track to meet its hiring, growth and operational goals, as demonstrated by being named "Best Business VoIP Provider" for three consecutive years as well as its recent ranking as one of Arizona's Best Places to Work. The addition of the new president role will empower the company to focus on operational efficiencies and increasing market penetration.
ABOUT NEXTIVA
Headquartered in Scottsdale, Arizona, Nextiva (@Nextiva) is a privately held member of the Unitedweb family. Nextiva is one of the country's leading providers of cloud-based, VoIP business communication services. Nextiva has won more than 35 Independent Technology & Telephony Awards, including numerous "Product of the Year Awards" by Internet Telephony magazine. Nextiva delivers "Fortune 500" phone service at start-up prices and serves thousands of small-to-midsize companies across the United States. For more information call 800-983-4289 or visit http://www.nextiva.com.