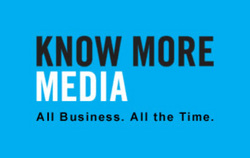 I have been in the blogging world since 2005 and have covered various business topics such as outsourcing, project management, VoIP, China Manufacturing and many more. I am also working full-time as a recruiter for one of the biggest companies in our country and in the world.
Orange County, CA (PRWEB) January 10, 2008
In recent weeks, eleven business experts have joined as new authors for Know More Media, an online publisher of business information and news, and one of the world's leading business blog networks. Know More Media blogs provide real-time news, information, analysis, and advice on a variety of niche business topics. The company's blogs are authored by topical business experts who are authorities in their respective business-related fields.
"Our network's goal is to provide expert niche content on business topics," said Dan Smith, VP of Publishing for Know More Media. "These new authors are authorities and practitioners in their respective business fields. Our readers find value in being able to hear and learn straight from an expert, as well as being able to communicate directly with that author through the blog format. We are constantly seeking new authors for open blogs on our network."
Suzanne Wells is on PowerSellerKing.com (http://www.PowerSellerKing.com), a blog that offers tips and information about eBay power selling and online auctioning. Suzanne is an exceptionally experienced eBay Power Seller, having sold over 14,000 items on eBay. She has written and published the book "The Stay-at-Home Mom's Guide to Successful eBay Selling", operates her own eBay store, and is the writer and mastermind behind the eBay Selling Coach. Suzanne says, "I have learned volumes about eBay selling through trial and error, experience, research, persistence, and sheer determination… I will share real information about what to sell, where to find it, how to use eBay's options and features, and all the nuts and bolts of how to make eBay work for you."
Michael W. Jones writes on ItsBadBusiness.com (http://www.ItsBadBusiness.com), a blog that discusses business ethics, bad business practices, business process failures, how to avoid being a bad business, etc. Michael has a degree in Business Management, coupled with over 30 years of practical business and business analysis experience, having served as a manager, Director, Vice President, and President of various companies. As Michael says, "I spent a lot of time developing systems for analyzing business processes, both automated and manual. That kept my focus in the area of business tactics and strategy, with a significant concentration in business ethics."
Alfa Mercado is on ProductivityGoal.com (http://www.ProductivityGoal.com), a blog sharing tools and tips regarding successful work productivity, time management, and organizing strategies. Alfa has effectively worn many hats at one time in the corporate world, and has thus learned through experience the secret to being productive. Alfa says, "I hope that I can be of help in making ProductivityGoal to continue to serve as one of those resources that helps folks to become accomplished, not just busy."
Bridget Wright now writes on LeaderNotes.com (http://www.LeaderNotes.com), a blog providing a discussion of traits, characteristics, and current news of leaders and leadership principles. Bridget is a member of Toastmasters International and has much experience in public speaking and leadership, particularly in public speaking about leadership. Bridget says, "I specialize in facilitating small businesses and non-profit corporations on how to implement successful communication and leadership skills within their organizations."
Terah Shelton writes on CorporateTreat.com (http://www.CorporateTreat.com), a blog focusing on luxury business travel and accommodations, corporate retreats, and other luxury business resorts and incentives. Terah has notable writing experience in numerous newspapers and magazines, as well as extensive travel experience, as she says, "I've watched the sunrise at the beginning of America, trekked through the jungles in the Bokeo Nature Reserve, searched for William Clark's grave in St. Louis, used my average looks for free gondola rides in Venice, learned the art of Laotian cooking in Vientiane, studied the Soufriere Hills Volcano on Montserrat, walked the Slovenian Coast, and much more."
Mihnea Boiangiu is on Gearater.com (http://www.Gearater.com), a blog devoted to the electronic infrastructure that helps a business function - the hardware, servers, networks, connectivity, fiber, routers, switches, etc. Mihnea says he is very passionate about science and technology, and "I will do my best to provide you with the most interesting information. Here, you can read about hardware, servers, networks, connectivity, fiber, routers, switches, office utilities, software and many other related products."
Yvonne Russell writes on SmallBizMentor.com (http://www.SmallBizMentor.com), a blog about small business - how to run a small business, how to manage accounting and payroll, how to handle growth, how to hire, how to fire, tools and services, insurance, taxes, technology, benefits, etc. Yvonne has personally started, owned, developed and sold a number of award-winning small businesses, including the Grow Your Writing Business blog. Yvonne: "I've owned a number of small businesses, and have learned as much from my mistakes as from my successes... and am still learning every day… The combination of exploring business and people potential, writing, blogging and sharing ideas and tips, all comes together here at SmallBizMentor.com."
Sung Hin Jason Chan is on ZhongHuaRising.com (http://www.ZhongHuaRising.com), a blog focused on business in China, doing business with China, Chinese businesses and financial markets, and China's rise as an economic and business world power. Jason, having lived most of his life in Hong Kong, has worked with numerous Chinese businesses and been closely involved with Chinese financial markets. Jason states, "As I've had experience with a number of local banks in Hong Kong, I'll be focusing more on capital markets and financials in Greater China. For those of you who are more interested in industry and macroeconomic news, I'll be keeping an up-to-date commentary on that, too."
John Xavier writes on ElephantBiz.com (http://www.ElephantBiz.com), a blog offering Republican and Conservative political analysis and commentary. John has been deeply involved in Republican politics for quite some time, having also worked on Republican campaigns. John observes, "Today, the biggest issue facing our country is the 2008 election. We are at a critical point in history. The next President will be in the position to further the transition to democracy in Iraq, expand the gains of global trade to the developing world, and restore the Right to Life to the U.S. Constitution. The country is searching for a leader, our Party searching for its soul."
Mary Elaine Ramos is on GoodRecruits.com (http://www.GoodRecruits.com), a blog focused on corporate recruiting, including recruiting tips, resources, best practices, software, etc. Elaine is a full-time corporate recruiter; as she explains, "I have been in the blogging world since 2005 and have covered various business topics such as outsourcing, project management, VoIP, China Manufacturing and many more. I am also working full-time as a recruiter for one of the biggest companies in our country and in the world."
Miranda Marquit will be the very first author on LendingLeaves.com (http://www.LendingLeaves.com), a blog centered on the lending world and financial services, discussing interest rates, loan types and options, licensing, firms, trends, brokers, credit scores, A paper, B paper, credit markets, lenders, sales and relationships, customer acquisition, etc. Miranda has considerable experience in writing about money and finance. She says, "I write for the Banks.com mortgage blog and LoanShak. Additionally, I have my own personal finance blog at All Business and I write the Yielding Wealth personal finance blog. So I am thrilled to be writing for Lending Leaves. I am very interested in all aspects of lending, from how to get a loan to how to get the best possible terms on a loan to how to pay loans off quickly. And, with recent events, surviving in our debt-based economy is of especial importance to me."
About Know More Media
Know More Media (http://www.KnowMoreMedia.com) is an online publisher of business information and news, headquartered in Orange County, CA. The Know More Media business blog network includes more than 100 niche business blogs that attract over one million unique visitors a month. Its expert business writers contribute valuable business-related blog content to the online world. Its writers are typically practicing authorities in their fields, who provide their business advice and knowledge to business readers through a various blog topics such as management, customer service, finance, advertising, international business, and entrepreneurship.
###