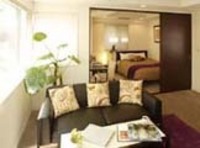 We see people on business trips to Japan having much less time to select their extended stay accommodation. We hope these videos can alleviate some of the stress involved in acquiring just the right 'home-away-from-home' for the extended business or pleasure trip to Tokyo or Yokohama
Ferndale, WA (PRWEB) September 8, 2009
Space Design Inc, operator of 17 fully furnished/serviced apartment buildings in Tokyo and Yokohama, announced completion of "My Serviced Apartment Tokyo" guided video tours. With no time to view apartments directly and many orders for business accommodation on extended Tokyo stays coming straight from overseas, Space Design introduces individual apartments and gives an overview of each building in a friendly, informal video tour.
"We thought a more approachable tool was necessary for our guests who are planning business or pleasure trips to Tokyo. They often face an overflow of information from various providers and we wanted to give them something fun and real. From overseas or without actually viewing our apartments, it is difficult to understand what sets BUREAU, B-SITE, BUREX and B-CONTE services apart from our competitors. So we thought we would bring our buildings and friendly staff directly to anyone in need of this information", states Ruth Shiraishi, Director of Business Development and one of the main guides in the video series. With videos in Chinese, Korean, Japanese and English, Ruth and her team are hoping to convey the warm welcome they offer visitors to Tokyo.
The video for BUREAU Shinagawa was Space Design's first attempt and with more than 500 views in the first month online, Ruth and her team are working to get intro-videos of every building up by the end of September. "We see people on business trips to Japan having much less time to select their extended stay accommodation. We hope these videos can alleviate some of the stress involved in acquiring just the right 'home-away-from-home' for the extended business or pleasure trip to Tokyo or Yokohama," says Ruth. With the "My Serviced Apartment Tokyo" series in place, visitors to Tokyo can get a clearer and more real idea of their accommodation options.
For more information, contact
Space Design Inc.
Nippon Press Center Building, 2F
2-2-1 Uchisaiwaicho, Chiyoda-ku Tokyo 100-0011
Tel: 81-(0)3-3502-7777, FAX: 81-(0)3-3502-7235
URL: http://www.space-d.co.jp
Media contact:
Ruth Shiraishi, Director of Business Development
81-(0)3-3502-7234
Ruth is a 20+ year resident of Japan and leads an international team in Tokyo and Yokohama to assist international and domestic travelers with their accommodation and office requirements. Space Design Inc., follows a 4F policy of fast, flexible, friendly and fair service to their guests from Japan and around the world.
About Space Design Inc.
Space Design Inc., is a real estate developer that manages 17 fully furnished and serviced apartment buildings across Tokyo and in Yokohama. Space Design Inc. also operates serviced office buildings under the BUREX brand as well as a brand new Residential Hotel, called B-CONTE Ariake.
With some 1400 perfectly appointed studio and one bedroom apartments, Space Design is the preferred choice for business travelers on extended stay in Tokyo or Yokohama.
BUREAU Hirakawacho 2 in central Tokyo. Enjoy a guided tour of the building and apartment by Ruth Shiraishi.
Here is the first guided video of BUREAU Shinagawa released by Space Design Inc. Get a handmade idea of accommodation options at BUREAU Shinagawa.
Here is the best option for compact office space in Tokyo. Ruth gives a friendly introduction to this excellent serviced office space: BUREX Kojimachi.
# # #