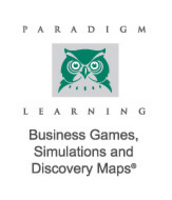 We have had Zplus in place for many years and our clients have found it very useful. The redesign of the site provides even more tools, tips and resources for our clients
Tampa, Fla. (Vocus) February 9, 2009
Paradigm Learning, a corporate training company that specializes in creative classroom business games and simulations that are fun, fast, cost-effective and easily customizable just announced new online enhancements to Zplus. Zplus is designed to function as a Web-based support and reinforcement tool for existing Zodiak®: The Game of Business Finance and Strategy clients.
Zodiak is a classroom-based business simulation designed to enhance participants' business acumen while teaching them the basics of financial literacy. Zplus provides client companies with valuable information about conducting and implementing the simulation program.
The Web site, which is provided exclusively for Zodiak clients, covers many topics and offers a number of enrichments, including the following:

Marketing Zodiak internally
Tips/tools for conducting the simulation and "Connections" exercises
Reinforcement exercises that can be used after the initial training
Strategies for gaining management follow-through
A forum for Zodiak clients to connect with other Zodiak users
Customization, measurement and results communication options
Tools for the evaluation and measurement of the impact of the Zodiak training
"We have had Zplus in place for many years and our clients have found it very useful. The redesign of the site provides even more tools, tips and resources for our clients," says Robb Gomez, president of Paradigm Learning. "We listened to our Zodiak clients and they communicated to us what they wanted: more robust support and reinforcement tools of the classroom-based experience. We have paid extra attention to upgrading the sections on learning reinforcement. Our clients have repeatedly said that these reinforcement tools create much more impact on learning retention and desired behaviors related to expense management, profit improvement and asset utilization…all concepts that are imbedded in the Zodiak simulation."
Whether you are new to Zodiak or have used it for years, this site provides valuable information, tools and resources to help you successfully implement the program in your company. For more information about Zodiak: The Game of Business Finance and Strategy or Zplus, visit us at http://www.ParadigmLearning or call 813-287-9330.
About Paradigm Learning
Paradigm Learning provides creative classroom games and simulations that are fun, fast, cost-effective and easily customizable to your business strategies. Our corporate training programs have been delivered to more than 50 percent of the Fortune 500 and focus on the areas of business acumen, employee alignment, organizational change, project management and talent leadership.
Contact:
Diana Blackburn
Paradigm Learning
###