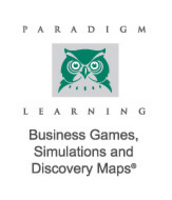 Zodiak allows employees to see things through the bosses' eyes.
St.Petersburg, Fla. (Vocus) July 10, 2009
Paradigm Learning, a corporate training company that specializes in creative classroom business games and simulations that are fun, fast, cost-effective and easily customizable, just announced an exciting new product enhancement to Zodiak®: The Game of Business Finance and Strategy.
Zodiak, a classroom-based business simulation designed to enhance participants' business acumen while teaching them the basics of financial literacy, has been used with over one million managers and employees around the world since its launch in 1994. Paradigm has now released a new version of the game for HR professionals who work in areas like benefits, compensation, training and succession planning. The program will enhance their business acumen and allow them to more successfully align HR initiatives with corporate strategy.
First, learners gather around a visually engaging game board representing a struggling $40 million company known as Zodiak. Small teams become its new owners and move $1 million chips as they engage in selling products and services, tackling employee problems, making investments, and fielding shareholders' questions. Along the way, they make decisions about such issues as staffing and training, improving processes, managing outside providers, and more. Over a period of three game years, they acquire a deep understanding of such critical business fundamentals as making a profit, generating cash and increasing shareholder value.
Next, following the board game, learners shift from the big picture of business success to their own company's financial and strategic issues. HR-specific connections exercises guide learners to take a closer look at:

HR functions and departments as a "business."
HR budget and cash flow issues as they relate to the company's financial objectives.
The criticality of linking departmental initiatives to strategic objectives and
communicating these links to senior executives.

The issues involved in analyzing and communicating return on investment.
Best practices in HR alignment and communication.
This powerful business simulation helps HR personnel develop increased confidence in understanding their company's financial and strategic issues. Armed with this knowledge, they will be able to better align HR initiatives, work with senior executives and calculate the ROI of their HR initiatives.
For more information on Zodiak: The Game of Finance and Strategy for HR Professionals , visit http://www.ParadigmLearning.com or call us at 727-471-3170.
About Zodiak®: The Game of Business Finance and Strategy
Since its inception in 1994, more than 1 million people in 400 organizations worldwide have learned the fundamentals of financial literacy and business acumen through this classroom-based board game. Participants run the fictitious Zodiak Company as they learn about the factors that lead to organizational success. Employees at all levels lose themselves in the four-hour game, unaware that they are actually participating in a sophisticated business simulation, designed around the managerial challenges most frequently encountered by Fortune 1000 companies. As BusinessWeek headlined: "Zodiak allows employees to see things through the bosses' eyes."
About Paradigm Learning
Paradigm Learning, based in St. Petersburg, Fla, provides creative classroom games, simulations and Discovery Maps® that are fun, fast, cost-effective and easily customizable to your business strategies. Our corporate training programs have been delivered to more than 50 percent of the Fortune 500 and focus on the areas of business acumen, employee alignment, organizational change, leadership development, sales training, project management and talent leadership.
Contact:
Diana Blackburn
Paradigm Learning
727-471-3170
# # #