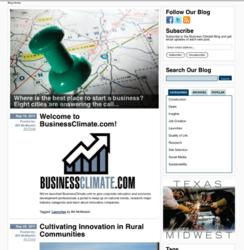 Studies show more than 85 percent of this target audience begins its research online.
Franklin, TN (PRWEB) September 27, 2011
A new website, BusinessClimate.com, launched in September as a powerful tool and resource for site selectors and relocation professionals. Studies show more than 85 percent of this target audience begins its research online.
Site selectors can find demographic information and workforce data on all 50 states on the site, as well as more detailed facts and stats on selected regions such as Texas, Wyoming, Kansas and the Carolinas. BusinessClimate.com partners with OnBoard Informatics, the leading supplier of data, to provide the most current facts and figures about these areas.
EDOs and commercial realtors can post available site listings on BusinessClimate, while special sections like Top Industries, Cool Companies and Trends offer insight into fast-growth industries and spotlight business success stories.
BusinessClimate.com also features original photography, editorial and video that highlight each region's quality of place.
"Incentives, labor costs, transportation infrastructure and other hard data are key factors in choosing where businesses relocate – and BusinessClimate.com provides that – but when it comes down to the final choice, it's often the less-quantifiable emotional connections that sway a decision," says Bill McMeekin, business publications content director for Journal Communications, owner of the new site. "That's where the quality of place content on BusinessClimate.com comes in."
Another useful feature of the website is the BusinessClimate.com Blog, which takes an insightful look at economic development trends and regional news. Bloggers cover topics ranging from research and development and job creation to construction deals and sustainability efforts. A library of digital economic development guides makes it easy for site visitors to download and share content about specific regions.
"The portability of the website – content can be downloaded, emailed or posted to social networking sites like LinkedIn – is a major advantage," McMeekin says. "Site selectors need to be able to quickly access and share information they find. BusinessClimate.com allows them to do that."
About BusinessClimate.com: BusinessClimate.com is property of Journal Communications Inc., an award-winning content company specializing in economic development and quality of place information.
# # #