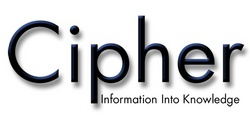 Terry's experience fits exactly what we were looking for in this position. Although Cipher has worked in the chemicals industry for a number of years, this is the first time we are formalizing the space with a specialty business director. We look forward to being able to better serve all our clients in this important market sector
CROFTON, Md. (PRWEB) December 15, 2008
Terry has 25 years' experience in the specialty chemical and coating industries, including business management, competitive intelligence research, new business development, market research and strategic planning. Terry was formerly VP Marketing and Sales for MicroPhase Coatings. He has also held senior marketing and sales positions at Pioneer Plastics and Morton International. Terry received a B.A. in chemistry from the University of Arkansas and an M.B.A. from California Coast University. He has completed numerous analyses for the chemical industry, including descriptive market studies, manufacturing cost analyses, new business planning, and acquisition and strategic analyses.
"Terry's experience fits exactly what we were looking for in this position. Although Cipher has worked in the chemicals industry for a number of years, this is the first time we are formalizing the space with a specialty business director. We look forward to being able to better serve all our clients in this important market sector," says Peter McKenney, Cipher's CEO.
For more information about Cipher's experience in the chemical industry, please visit our website: http://www.cipher-sys.com/chemical.html.
About Cipher
Cipher is a full service competitive intelligence firm serving clients around the world. Cipher is the only consulting firm to offer both research services and technology solutions to CI professionals. Cipher is experienced in delivering custom strategic research and analysis services across industries. Cipher also offers customizable decision support technology solutions, including award-winning competitive intelligence software, Knowledge.Works.
Release Summary:
Cipher, a competitive intelligence consultancy, has appointed Terry A. Brown as Business Director of its Chemicals Research Services Division. Terry will be responsible for developing and supporting Cipher's client base in the Chemical and Energy sectors.
Keyword Tags:
competitive intelligence, competitive intelligence chemical industry, competitive intelligence in paints and coatings, competitive intelligence in specialty chemicals, competitive intelligence research