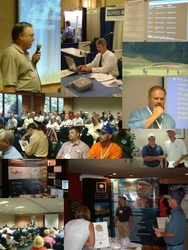 The Business Electricity Conference, focusing on coming trends, will leave you with an accurate assessment of exactly what to do and how to compete in the business world of today and tomorrow.
Beirut, Lebanon (PRWEB) June 3, 2010
International and regional experts will come together to discuss a variety of global trends in the fields of business, e-business, e-commerce, marketing and e-marketing during the Business Electricity Conference, taking place at the Mövenpick Hotel in Beirut, Lebanon, July 7 though July 9, 2010. The conference will feature four internationally known speakers who will present and workshop on global and local trends across business, online business and marketing industries. Business Electricity Conference is organized by EMC Lebanon & DSST Lebanon, and operated by Dr. Hossam Darwish, Secretary General of the International Organization for the E-Tourism Industry (IOETI) and president of Arab E-Tourism industry and GM of EMC Lebanon.
The objective of this event is to update, create awareness and educate individuals about sound e-business, e-marketing and e-commerce strategies in order to improve sales and profits with minimum cost and effort. Specifically, the event will focus on online marketing trends such as search marketing, social media, online brand reputation and e-commerce strategy. Individuals will meet others to share fresh views and perceptions with one another, and gain the guidance, knowledge and support of those who have worked and managed all manner of businesses. Tailor-made to suit individual business requirements, this conference will provide serious common-sense food for thought and hands-on business guidance, while stimulating and enabling attendees to perform to their full potential.
"The business world is moving quickly. In a world changing as rapidly as our own, you need a motivational and dynamic future view of the global business world," Darwish says. "The Business Electricity Conference, focusing on coming trends, will leave you with an accurate assessment of exactly what to do and how to compete in the business world of today and tomorrow."
Business Electricity Conference attendees will learn about a variety of topics, including business trends to 2013; the new marketing language and rules; why e-commerce really matters; leadership and strategy to win in the next decade and how HR has gone high-definition. Also to be discussed are the top ten 2010 global trends in areas such as strategy, sales skills, advertising, marketing trends, leadership, human development, e-business, e-marketing, ethical business practices and consumer behavior. Attendees will also learn how to build a foundation on social, search and digital marketing and how to keep abreast with new, innovative and cutting edge marketing techniques. From creating new revenue streams to rewriting capabilities, attendees will take away successful strategies for converting business.
The Business Electricity Conference will feature a spectacular line up of regional and international speakers who will provide delegates with terrific insight into some of the latest marketing trends and business practices for the new post-recession age. The speakers will present keynote materials and interactive workshops designed to pass on the benefit of their expertise and to allow attendees to apply their thinking and new rules into any business.
In addition to event organizer Dr. Hossam Darwish, speakers include event organizer Dr. Fadl Daher, PHD in criminology and sentencing sciences; Michael Jackson, lead presenter and master of ceremonies; Erik Vermeulen, strategist and behavioral motivator; Prof. Ali Sanayei, professor of marketing research and e-commerce, Head of Virtual University of Isfahan; Guy Whitcroft, strategist and leadership; and Mohamed El Sayad, General Manager, MSN Arabia.
As an attendee, you will also have the opportunity to meet with business leaders who might invest in your ideas. In addition to enabling all in attendance to examine the best practices of those agencies currently experiencing growth, EMC and DSST are giving everyone the opportunity to present a business idea to 100 Middle Eastern investors. If you think you have what it takes to convince these investors, here is the right place to be. All you have to do is to submit an idea right now. The idea will be discussed and presented to a jury. The brightest 100 ideas selected will receive an invitation for the conference with all costs covered.
Seating is limited by the size of the conference venue, so early registration is required to secure a place at this once-in-a-lifetime event. The program is action-packed and the speakers are delivering their finest materials. Slides will be available from the presenters afterwards for registered delegates. All registered participants will receive a certificate of attendance, endorsed by world-renowned business organizations and signed by Michael Jackson and Guy Whitcroft.
For more information about the Business Electricity Conference, please visit http://www.myemcevents.com or call the hotline: 0096171452365.
###