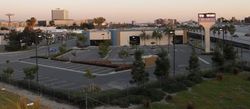 "The Business Expo Center is collaborating to help build businesses and careers by empowering people and connecting them with opportunities through Professional Expos, Seminars and Networking Events year- round states founder," Jim Shab.
Anaheim, CA (PRWEB) July 1, 2010
Business Expo Center in Anaheim, CA located next to 5 freeway, near Anaheim Convention Center, Angel's Stadium and Disneyland, is a new and revitalizing setting for business owners seeking methods to expand and grow their businesses. The multimillion dollar 36,000 Sq Ft center provides access to conference and meeting spaces for large or small businesses. Weekly training presentations and educational workshops are currently in progress at the multipurpose facility which celebrates its Grand Opening on July 29th, 3:30 pm to 8:30 pm.
The Business Expo Center has ample space for business and promotional networking events, business mixers and seminars. It is also geared to enhance business development for large or small companies, as well as the up and coming entrepreneur. Motivational speakers appear on a weekly basis with fresh ideas and strategies targeting business growth. It is the first and only business consortium in Orange County to serve as the "premier marketplace" for co-operating individuals and companies to promote their businesses to the public. "We will be hosting Business-to-Business Expo's, Networking Events, Speaker Events, Business & Motivational Training and Career Opportunity Fairs," states founder, Jim Shab.
Les Brown, an internationally recognized motivational speaker, author, and television personality will be one of the featured speakers at the Grand Opening Event. Also appearing is an array of celebrity and key note speakers Ron Kovach, Matthew Fox, Tara Grace Perry, Dave Espino and Chris Alexander. This powerful lineup of speakers is for local business owners and professionals, but seating is limited…register online today to reserve your seat at http://www.businessexpocenter.com!
By providing up to date in-house networking, an online Community Networking Center, and sponsorship opportunities, the Business Expo Center fulfills all business needs for a company as their business alliances multiply. The innovative Business Expo Center concept of "BUILDING BUSINESSES--EMPOWERING YOU--CONNECTING PEOPLE" is certain to promote professional success for all types of companies.
Anyone interested in prime exhibition space at this event, or the advantages of becoming a sponsor, should inquire below to secure a key position at the Business Expo Center. A limited number of promotional spaces are available online at http://www.businessexpocenter.com
###