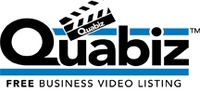 What makes Quabiz.com superior to other online yellow page Web sites
Plainfield, NJ (PRWEB) September 24, 2008
Quabiz.com has introduced a revolutionary free advertising solution with an online yellow pages web site that allows users to showcase their business with a video commercial in addition to traditional contact information.
Quabiz.com allows companies to sign up at no charge and upload a video to showcase their business. Registered business owners can save hundreds to thousands of dollars off the cost of traditional advertising by promoting their company at Quabiz.com. They can use their video to share information about their business, give viewers a peak inside their facility or even demonstrate their product or service.
"Business owners can now take advantage of the power of viral video marketing on the Internet to promote there business for FREE," said Davis Bui, Quabiz.com's founder. "This makes Quabiz.com a must-have marketing tool for any business."
Quabiz.com enables businesses to create an online presence without having their own Web site. This, in turn, helps them generate worldwide exposure and increase sales. Quabiz.com also offers a variety of features for online users. Quabiz.com visitors can quickly and conveniently access a visual depiction of the businesses that interest them. If they are looking for somewhere to dine, for example, they can view videos to gain an instant impression of the décor, atmosphere or get an idea of the menu for the listed restaurants. Visitors can search the directory by company name, category and geographical location, as well as get driving directions to businesses.
"What makes Quabiz.com superior to other online yellow page Web sites," says Bui, "is that people can not only search for business addresses and phone numbers, but they also can get a real sense of the business through video."
Quabiz.com offers additional capabilities to make the Web site more powerful for businesses and their customers. Quabiz.com has a unique Raffle Program that encourages its users to check out videos for businesses in their local area. Quabiz.com users can watch videos to enter a raffle of businesses that join the Raffle Program to win prizes offered by the businesses ranging from cash to gift certificates. Participants can also refer friends to join the raffle for a chance to win separate referral prizes. For instance, Quabiz.com is currently offering a $200 cash prize plus a $100 referral prize. "This creates an element of viral marketing for the business," Bui said.
Quabiz.com was established to provide businesses an innovative and inexpensive marketing tool for promoting their products and services. Quabiz.com, whose name is an abbreviation for "Quality Businesses," allows businesses to upload their videos for FREE. Quabiz.com, a privately-owned enterprise, offers companies an affordable alternative to traditional advertising.
For more information, please visit http://www.quabiz.com or contact Davis Bui at (718) 841-7969.
###