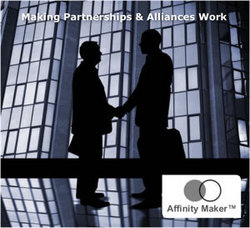 We saw, in the partnership Woolworths established years ago to launch its Ezy MasterCard, how a partnership can underperform and later fall over. More importantly it showed us that if the foundations are not solid, no matter how big your organisation is, the partnership can go terribly wrong
(PRWEB) September 1, 2008
Affinity Maker today launches the Affinity Engine™ 'Business Matchmaker' which helps organisations unlock the potential in their brands by spotting commercial opportunities between organisations across sector and geographical boundaries, identifying target partners, creating effective connections and brokering relationships.
The Affinity Engine™ 'Business Matchmaker' is a comprehensive and powerful system that harnesses the collective power of target industry sectors with customer demographics and Psychographics to increase partner-matching effectiveness and give the service an international reach. This allows our 'Business Matchmaker' specialists to explore possibilities and connections with their counterparts in different geographical territories, uncovering opportunities which could otherwise have been obscured by geographical barriers.
The launch of Woolworths Credit Card at the same time as the launch of the Affinity EngineTM has provided Affinity MakerTM with a current example of how business partnership foundations are of paramount importance to determine the outcome of any partnership or alliance. Rubilda commented; "Only time will tell us if Woolworths did its homework this time… anyhow now there is the Affinity EngineTM ready to help, if things do not go according to plan for Woolworths".
Let's hope the new credit card partnership between Woolworths, HSBC and MasterCard does not follow the same path as the Ezy MasterCard. The Ezy MasterCard was launched in 1999 and hit rocky times in 2003 when legal action was taken against MasterCard; the Commonwealth bank claimed MasterCard had breached the exclusive credit card deal by joining Myer to launch a similar card. The partnership managed to survive, but in 2006 was scaled back and was no longer offered to new customers.
Woollies new credit card aims to compete against Myer and David Jones branded credit cards and to offer a more comprehensive loyalty program to its customers. According to Rubilda Segura of Affinity Maker, "We saw, in the partnership Woolworths established years ago to launch its Ezy MasterCard, how a partnership can underperform and later fall over. More importantly it showed us that if the foundations are not solid, no matter how big your organisation is, the partnership can go terribly wrong". As a marketing specialist, Rubilda is part of the team of experts at Affinity Maker that has helped organisations of all sizes to create new partnerships and alliances or make existing ones work better.
She continues explaining; "For the new card to be successful, Woolworths, HSBC and MasterCard should have a clear partnership framework, which includes building the right behaviours, efficient processes and an effective governance structure including their common shared objectives; as well as a detailed execution plan. This would allow them to design a rock solid foundation for the new alliance, if they are serious about making it work".
Often these partnership basics, as Rubilda describe them, get lost in the details and excitement of a new partnership prospect. "Woolworths probably had a rethink on its financial services strategy, and hopefully would have gone through a more thorough partner selection process to avoid past failures." The comments follow the launch of the Affinity EngineTM, a tool that the Affinity MakerTM team of partnering and alliancing experts have designed to aid organisations when it comes to creating new partnerships or making existing ones work better. It features two sections, the 'Partnership Repair' is a starting point to help organisations get their partnership or alliance back on track; and its unique 'Business Matchmaker' which helps organisations create and develop alliances and partnerships with relevant like-minded organisations.
About Affinity MakerTM
Affinity Maker is an international boutique consulting company that helps clients create new partnerships and alliances or make existing ones work better. As part of their research, Affinity Make looked at the ways individuals date each other and make their relationships better when things start to go wrong. Combining this with their knowledge of business partnerships led to the creation of Affinity Engine™. Affinity Maker has worked with leading Australian organisations including: AIG, Priceline, NRMA and DRIVA-Check.
Affinity Maker's Affinity Engine for Business Partnerships and Alliances
Media Release Content Provided Via OzMedia Press Services
# # #