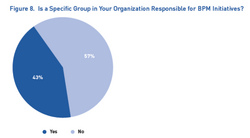 It is unfortunate that more organizations have not addressed BPM more strategically
Silver Spring, MD (Vocus) October 22, 2008
According to data collected from over 354 business users and just released in an AIIM Market IQ on Business Process Management (BPM), 48% of respondents indicated that their organizations lacked consistent practices and that management of processes is reactive, lacking any formal strategy. Only 3% felt their organizations had achieved process excellence.
"This is disappointing and shocking," states AIIM Vice President and report co-author, Carl Frappaolo. "Despite decades of market attention on process excellence--from the manufacturing industry, into the world of "knowledge workers", and across all industries--it's been a long, slow journey, and many have yet to embark on the journey. The damage lies in the fact that processes are the core of any functioning organization."
The new study, conducted in August 2008, found that 57% of respondents have no specific group or individual responsible for BPM initiatives.
"It is unfortunate that more organizations have not addressed BPM more strategically", stated Frappaolo. "Among those organizations that have, we found that 52% achieved a positive ROI in three years or less. Another 15% achieved ROI in five years or less. This is in stark contrast to AIIM Market Intelligence ROI findings concerning functionality like Security, Enterprise 2.0 and Findability. While such technologies have their upsides, they are often "soft" benefits, difficult to measure in hard dollars. In the case of BPM, the benefits can be far more tangible, and directly impact the heart of an organization - the process. A full 70% of those who reported executing an ROI, indicated direct cost savings as an achieved benefit."
For further details on this study, the research paper, the AIIM Market IQ on BPM, is available for download at http://www.aiim.org/BPM.
About AIIM (http://www.aiim.org)
AIIM is the community that provides education, research, and best practices to help organizations find, control, and optimize their information.
For over 60 years, AIIM has been the leading non-profit organization focused on helping users to understand the challenges associated with managing documents, content, records, and business processes. Today, AIIM is international in scope, independent, implementation-focused, and, as the representative of the entire enterprise content management (ECM) industry - including users, suppliers, and the channel - acts as the industry's intermediary.
AIIM was founded in 1943 as the National Microfilm Association and later became the Association for Information and Image Management. AIIM is also known as the Enterprise Content Management (ECM) Association.
For more information, contact:
AIIM
Beth Mayhew,
Director, Marketing
301.755.2681
bmayhew@aiim.org
Carl Frappaolo
Vice President
617.933.2584
cfrappaolo@aiim.org
###