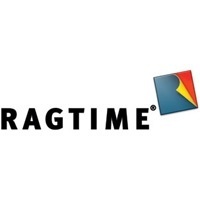 This allows delivering future developments more quickly and simultaneously for Mac and Windows.
Garbsen (PRWEB) December 1, 2008
RagTime.de, developer of the award winning business publishing solution RagTime, today released a preview version of its RagTime 6.5 for Mac and Windows. As a Universal Binary, the new software will be up to six times faster on Mac Intel computers. The Windows version is also faster and comes with an OLE-API for application-wide automation support. More than 150 new functions can be used within spreadsheets and text paragraphs on both operating systems. Layout functioanlity is enhanced and now includes the ability to run text along any kind of curve. Many more improvements make working with RagTime 6.5 even more intuitive, easy to use, and more productive.
RagTime 6.5 is a Universal Binary that runs as a native application many times faster on Mac Intel computers. "We focused the RagTime 6.5 development on the transition to modern programming tools and a thorough refinement of the code," explained Helmut Tschemernjak, CEO of RagTime.de Development GmbH. "This allows delivering future developments more quickly and simultaneously for Mac and Windows."
"Additionally, our customers are getting a RagTime that utilizes the actual hardware and system resources most efficiently. Using RagTime 6.5 is speedier in all aspects." The increased speed is most obvious when opening huge complex documents, scrolling long texts, and updating graphs after the underlying spreadsheet data has changed. "Printing and PDF output have been optimized especially for Mac OS X 10.5 Leopard," Tschermernjak said. "Thus Mac and Windows RagTime 6.5 users are more productive and cost efficient in their work."
Windows users profit from numerous enhancements that make working more intuitive and effective. Using the new OLE support it is possible to share and remotely update RagTime document content with other OLE compatible applications for document creation, adding images, text and graphics, filling forms, and printing and PDF creation. Friedrich Eul, CEO of RagTime.de Sales GmbH notes that "RagTime 6.5 can be used even more efficiently in the office. Excel spreadsheets can be imported effortlessly, as all commonly used functions and formulas are recognized and transfered by default. More than 150 new functions covering trigonometry, general, technical, and financial formulas as well as statistics, offer great enhancements for calculations in spreadsheets and text sections."
As of today the RagTime 6.5 preview can be downloaded and tested free of charge. After the completion of a simple registration form at the RagTime.de website a download link for a Mac and a Windows version is provided.
RagTime 6 - simply productive
For more than ten years, the RagTime business publishing solution has enabled users to easily and professionally set up office and creative design documents. RagTime 6, introduced in 2006, made it even easier to use, while incorporating sophisticated design technologies like transparencies, PDF and HTML output.
RagTime is the perfect match of an office and a desktop publishing application: the software combines word processing, spreadsheet, diagrams, images, and graphics in a comfortable layout environment. RagTime is easy to use and covers all needs, from the "ad hoc" set up of simple forms to the database driven production of a multi-language technical catalog. RagTime is offered in identical versions for Mac and Windows, and is licensed for a main and a secondary computer. Thus full compatibility is guaranteed for mixed Windows and Mac installations.
Learn more about the features and benefits of RagTime 6 on the RagTime website http://www.ragtime.de. RagTime is a registered trademark of RagTime.de Development GmbH.
###