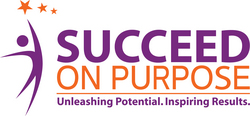 It's a great tool to inspire people to find hope in even the greatest of tragedies.
Dallas, TX (Vocus) September 15, 2010
As the economy remains stagnant and workers are faced with more corporate layoffs, social entrepreneur Terri Maxwell sees opportunity in purpose. Maxwell founded Succeed on Purpose, Inc. in 2009 as a way to give back through her purpose, which is to "inspire people to achieve their potential." Maxwell hosts Purpose Workshops around the country, teaching participants how to find their life purpose and either change their career or start a business on that purpose. Succeed on Purpose is also a business incubator which enables purpose-driven entrepreneurs to launch a business through several unique programs.
"Succeed on Purpose is more than a business to me. It's a mission. It's my purpose. Although I've built several successful businesses, I have also learned that success is not the same as purpose. The economic crisis created an opportunity to align with job seekers looking for a better way and teach them how to generate success from their purpose." Maxwell said.
Maxwell's book launch is scheduled for September 15th at several local events. The book, Succeed on Purpose: Everything Happens for a Reason, chronicles a young girl who moved from being victimized to eventually thriving through business ownership, and then moving to living a purpose-filled career.
The primary launch event will be at the 25th Anniversary Event of the D/FW Chapter of the National Association of Women Business Owners NAWBO. Maxwell will be speaking to women entrepreneurs about how to overcome pitfalls in business ownership that prevent them from achieving financial freedom.
Maxwell says, "Launching the book at this NAWBO D/FW event is an honor for me. NAWBO D/FW is an incredible women's business leadership organization filled with business owners I've admired for decades."
The book explains to readers how to follow their purpose and trust the process along the way. The final chapter is dedicated to helping readers actually develop a purpose statement. Maxwell adds, "It's a great tool to inspire people to find hope in even the greatest of tragedies."
Purpose Workshops have been sold out the last few months as workshop leaders teach participants how to align their strengths and passions with purpose-driven careers. Numerous graduates are successfully navigating a career change and moving away from an unsatisfying job towards a career about which they are passionate.
Maxwell notes that purpose is a combination of strengths and passions and that most professionals build careers based on strengths while seeking the external rewards of a corporate position. "For some reason, professionals believe they can't build a career based on the things they are passionate about and still have financial success. That's simply not true."
Workshop participants leave the 1-day event with three critical ingredients:
1) A Purpose Statement, which many participants describe as a "tuning fork for the soul"
2) A set of Purpose Goals to build a career or business on their purpose
3) And a Purpose Plan to move from where they are, to living a life on purpose
Also, included in the $99 workshop fee is a free 1-year coaching support program called Purpose Pathways. Maxwell realized that participants needed on-going support to make the transition to a new career or to their own purpose-driven business. She immediately invested in a program to support participants for one full year after the workshop to encourage transformation.
"Purpose Pathways™ is a free 1-year coaching program for workshop participants. We make powerful resources available to facilitate a purpose-based transformation." Maxwell added.
In addition to a career change, many participants choose to bring their purpose to life through a start up business venture. Although less than 40% of the workshop participants choose to start a business, those who do are given incredible support through a business portal and a business incubation program Maxwell founded. Succeed on Purpose has invested almost $80,000 in start-ups in the past year. "It's not about the businesses. What I am passionate about is teaching people how to discover their purpose and build a life around that purpose." Maxwell adds.
About Terri Maxwell:
Terri Maxwell founded Succeed on Purpose, Inc. a purpose-driven business incubation firm that teaches people how to find their purpose and helps entrepreneurs find a way to take their purpose-driven ideas to market. Terri was also President and founder of LATIMARK™ a 40 person marketing consulting company whose customers were some of the largest brands in the world. In addition to her success as an entrepreneur, Terri was President of Prodigy's $35M internet marketing subsidiary leading it to record setting growth in the late 1990's.
# # #