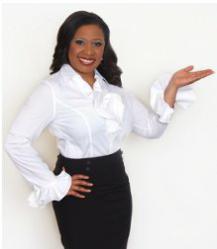 I also understand exactly what it's like to create your own world, for better or worse, to step out into the unknown and go for it, regardless of what others around you say. I know what it's like to start from scratch, to be committed to your goals, and to
(PRWEB) May 09, 2011
Building and running a thriving business in any economy is tough – and doing so in a down economy can be even tougher. That's why Melissa Evans, also known as The Guru of Implementation, is offering an all-day seminar Saturday, May 21 in Atlanta: "Top Secrets Revealed Atlanta: How to be Recession Proof in 2011 and Beyond."
Melissa, who earned millionaire status by age 31, defines "Soul Purpose" as living inspired, personally and professionally, while experiencing prosperity, success and joy. "I have a TON to share about living abundantly regardless of the economy, by defining YOUR soul purpose and then living it to make money," she says.
To that end, Melissa's all-day seminar will cover, in part:

The real reason why many people feel unfulfilled and restless (hint: it's probably because they're not living your soul purpose -- she'll share how attendees can discover it if they don't know what it is, plus how they can live it)
How living in soul purpose attracts abundance -- more wealth, better health, wonderful relationships -- and how attendees can do the same
How people can make money living their soul purpose
How people can clarify their purpose
3 easy steps people can take to begin living their soul purpose
How attendees can come up with a high-level, purposeful plan
How attendees can build a business that is absolutely recession proof
Melissa has created her own success, and she has helped Fortune 500 companies and countless entrepreneurs take the steps they need to transform their businesses.
She says: "I also understand exactly what it's like to create your own world, for better or worse, to step out into the unknown and go for it, regardless of what others around you say. I know what it's like to start from scratch, to be committed to your goals, and to face challenges and obstacles that make you wonder if you made the right decision."
Melissa is dedicated to helping entrepreneurs to find their soul purpose, and to live it – in any economy at any time.
For more information about her upcoming event, "Top Secrets Revealed Atlanta: How to be Recession Proof in 2011 and Beyond," visit this web site: http://www.monetizeyoursoulpurpose.com
# # #