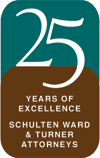 In our twenty-five plus years as a law firm, we've always remained committed to hiring the very best talent.
Atlanta, GA (PRWEB) December 19, 2011
Atlanta-based law firm Schulten Ward & Turner, LLP recently announced the hiring of four new attorneys: William (Bill) M. Joseph has joined the firm as a partner, and Corey N. Cutter, Brandon C. Hardy, and Leslie A. Brooking have joined as associates.
Bill Joseph brings over 25 years of experience to the firm's domestic and international tax law practice. His experience includes corporate, partnership, and international taxation, with a focus on representing companies in mergers and acquisitions, spinoffs, and joint ventures. Bill has also successfully represented clients before the Internal Revenue Service and State Departments of Revenue, adding to the well-rounded expertise he brings to the firm.
Corey Cutter has joined the firm's litigation group, and will be handling commercial and business disputes, as well as privacy law issues. Corey is certified by the International Association of Privacy Professionals, and has strong experience as National Counsel for one of the major credit bureaus.
Brandon Hardy joins the firm after previously practicing in the commercial real estate group at a large Atlanta law firm. His unique background includes work as a CPA and financial analyst for Coca-Cola Enterprises and an auditor for Arthur Andersen, LLP. Brandon will work with clients in the areas of commercial real estate, business transactions, tax planning, and civil tax controversies.
Leslie Brooking is a recent graduate of Emory University School of Law, where she graduated in the top 15% of her class. Leslie previously taught secondary education English, and has already proven to be an outstanding writer and expert communicator during her time with Schulten Ward & Turner, LLP. Leslie will represent clients in labor and employment, insurance, and personal injury matters.
When asked how his firm continues to grow in a very challenging economy, founding member Scott Schulten attributed it to the right combination of people. "In our twenty-five plus years as a law firm, we've always remained committed to hiring the very best talent. This means hiring both attorneys with extensive experience, as well as those that bring new energy to the organization as a whole. I'm very excited about our new lawyers and believe our clients will be as well."
To read more about Bill Joseph, Corey Cutter, Brandon Hardy, and Leslie Brooking, please visit their profiles at http://www.swtlaw.com.
About Schulten Ward & Turner, LLP: The firm recently celebrated its 25th year in business. Well-established as the "go to" law firm for sophisticated business transactions and complex litigation, the Atlanta business attorneys at Schulten Ward & Turner, LLP represent individuals and businesses across the United States and internationally. The firm's commitment to high quality legal representation and unmatched service has enabled it to remain a valued partner to hundreds of clients over more than a quarter century.
###