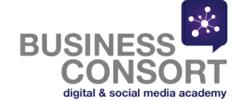 New social media program is just like having a mentor for the coming year
(PRWEB UK) 30 October 2012
Business Consort - The Digital and Social Media Academy launches new social media program to take social media marketing for increased business profits to new levels.
With social media becoming one of the key tools used in business and the emergence of more and more social networking tools it is crucial to understand the full impact digital marketing can have on a businesses revenue.
The key is to implement a focused social and digital marketing strategy but to do this the marketing and sales teams need to fully understand the practicalities and actions associated with the plan.
Business Consort's half day certified social media courses are a great way of learning strategy development and advanced tactics for reaching influencers and building customer engagement using best practices in social media.
The course will enable attendees to take social media beyond marketing and will be introduced to techniques to develop customer service, reputation management and best practice.
All course materials, refreshments & after course support are included at a cost of £149 + VAT per delegate.
Business Consort's training courses have been accredited for CPD hours within The Chartered Institute of Marketing's Chartered CPD Programme.
You will receive a certificate after course completion
What will you learn?
Use all the tools & features across all 3 networks - plus we'll provide you with an array of social media tools to make life easier!
Develop a unique social media plan & policy
Use social media tactics and metrics to prove & measure ROI & value of social media strategies
Review various social media applications and learn best practices & key metrics to measure
Incorporate social media at every stage of the revenue cycle
Build your network and increase your google rankings
Ensure you have the maximum exposure on each social network through your profile, company page, recommendations and groups
'Warm call' through each social network and generate enquiries
Venues are located in Manchester and London but if a delegate prefers to learn from their comfort of their own desk then Business Consort also offers digital and social media online courses.
The face to face and online learning program offers ongoing support just like having your own dedicated social media mentor for the coming year!
For further details visit http://www.thesocialmediaacademy.org