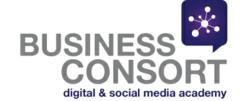 Social media training course sales sky rocket
(PRWEB UK) 25 October 2012
Business Consort - The Digital and Social Media Academy saw sales sky rocket in the past few months for their on demand social media and digital marketing learning community which launched earlier this year.
Last week StrongMail released the results of its 2012 Marketing Trends survey which gives a glimpse into where marketers are looking to spend their marketing budgets in the upcoming year.
Four areas were highlighted as the biggest points demanding more attention and money in 2012.
60 percent of respondents will raise email marketing budgets.
54 percent will invest more in social media.
37 percent will increase mobile and search budgets.
The results show that social media is an incremental part of any businesses marketing strategy hence why social media training sales have gone through the roof.
Business Consort recognised a real need for business people to be able to learn the real tangible elements of not just what social networking platforms do but more crucially the practicality of how they work.
They launched the on demand learning community with a choice of six courses that you can study online covering all the key elements required to fast track your business into successfully implementing a digital marketing strategy.
The digital and social media training courses cover topics such as Facebook, Linked in, Twitter, blogging, search engine optimisation and increasing web visibility.
Business Consort is a Chartered Institute of Marketing accredited study centre and business owner Dawn McGruer FRSA been invited to become a Fellow of the RSA - The Royal Society for the encouragement of Arts, Manufactures & Commerce founded in 1754.
This invite comes as recognition of her expertise in the field of social media marketing and her work to raise awareness of the advantages of social media to business owners.
Find out more at http://www.thesocialmediaacademy.org