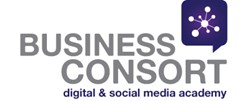 How to grow your business through social media and digital marketing free webinar
(PRWEB UK) 13 February 2013
Business Consort Digital and Social Media Academy is an innovative training provider that help businesses harness the power of social and digital marketing strategies to grow businesses.
As major brands such as Blockbusters and Jessops disappear off our high streets it is clear to see that it is digital era.
Business Consort have launched a free webinar to help businesses grow through social and digital marketing.
Join Dawn McGruer FRSA - Social Media Specialist - on this free webinar to find out more about social media marketing for business profits.
Dawn will give an end-to-end view of the benefits, & risks of adopting social media and strategies & tips for success.
A downturn in the digital economy has never been witnessed and this presents an opportunity as the economic slowdown is fueling online growth.
Consumers are empowered having access through a variety of devices and are enabled by the wide penetration of the internet and the tools it brings to research, investigate, share opinions, compare and purchase.
The downturn is going to increase the importance of digital in our lives because it helps businesses save money, time and costly travel.
With over 75% of transactions originating from search engines and the fact Google reaches 90% of the internet population can a business afford not to be visible on the web?
This webinar will provide businesses with a balanced view or the risks and opportunities of digital marketing, what it means for business and how social media can be used to get ahead of competition.
The webinar covers a background of social media and digital marketing, what does the future hold and how will this impact on business, how to benchmark where a business is and how to measure efforts through metric tools.
Plus it will also look at the pitfalls to avoid, reputation management and opportunities for business, which social media platforms and tools that reap the most benefit for businesses and strategies to to grow business through both digital and social media marketing - including content marketing and the complete digital communications mix.
Business Consort Digital and Social Media Academy are one of the world's leading training providers in digital and social media training and are accredited by The Chartered Institute of Marketing - Find out more at http://www.thesocialmediaacademy.org