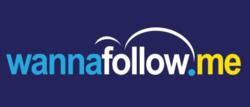 We are very excited to have Michael on board. He is a proven leader and should be a tremendous asset to our current management team. - Roger Safont / CEO
Tampa, Florida (PRWEB) December 31, 2012
WannaFollow.Me is proud to announce and welcome Michael Frangedis as the Company's Vice President of Business Development. Michael will be responsible for sales team leadership, driving revenue, contribute in product and vendor selection, as well as general management responsibilities.
Michael has been a business entrepreneur for the past 28 years, based in the Clearwater area since 1973. Michael has developed an exceptional background in people skills, including a professional inter-personal communications and ability to make the best possible use of his personal network.
"I am thrilled to be part of the WannaFollow.Me team. My entire career has been spent owning and growing companies and I look forward to continuing that tradition by providing best of breed business development solutions to WannaFollow.Me's current and future customers."
Social media has gone mainstream in the past year. The Top 20 social networking sites have more than one billion unique visitors every month and most people have multiple online profiles, scattered across various services, including Facebook, LinkedIn, Flickr and Twitter. One problem they face is pulling all that information together to build a single online identity — be it for personal use or to create a professional online profile. WannaFollow.Me is the solution by simplifying the social experience across the web.
WannaFollow.Me allows users to:
1. Create a custom personal profile page (think splash page)
2. Add social media links
2. Post updates to social networking sites
3. Build a fan base of followers to increase social connectivity
4. Upload videos to truly showcase your personal profile
Here is an example of a WannaFollow.Me profile:
http://wannafollow.me/smilecatz
Over the past year, virtually everyone has learned the importance of securing their online names as services like Twitter have come from nowhere to become significant drivers of top online brands. WannaFollow.Me makes this as simple as possible, establishing it as a great service and an even better opportunity for Internet users to control their identities online.