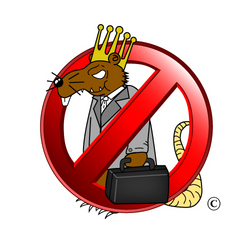 The King Rat and His Court is about the sad state of political and corporate governance
Pittsburgh, PA (PRWEB) April 1, 2009
At a time when corporate ethics seem to have hit rock bottom, a new book from author, William Bruno, and illustrator, Eduardo del Rio, sheds light on the underlying problem--our leaders are rats.
The King Rat and His Court examines the organization from the inside out, starting with the CEO and Chairman of the Board, and then tackling everyone involved, from Wall Street analysts to executive search firms. No one gets a free ride, and the only protagonist is you--the honest, hard working employee and shareholder.
The book mindfully examines what types of organizations are likely breeding grounds for rats, while providing guidance for honest employees to detect and exterminate the rats. Armed with this information, the reader is called to assess his or her own organization with the hope to find honesty, efficiency and fairness, but with the pragmatism to know that infestation is usually just a matter of degree.
"The King Rat and His Court is about the sad state of political and corporate governance," said author, Bill Bruno. "I wrote this book to shed daylight on how mediocre, and even incompetent, leaders gain and maintain power. The plague is upon us, as the rats breed and feed at our expense."
del Rio's masterful illustrations give the book a sense of determined irony. This most serious of subjects is also comical, and although average employees are desperate to restore honesty and integrity to their organizations, they must first laugh at their leaders.
For those who have asked the questions: "how did we get ourselves into this state of affairs?" and "are we too far gone?" The King Rat and His Court provides long-sought and well-deserved answers. Anyone interested in management, leadership, corporate ethics and greed will be fascinated by the unique treatment of this subject by Bruno and del Rio.
About the Author and Illustrator
William A. Bruno has over thirty years experience as a corporate executive and is an international speaker and lecturer on sustainable development and energy security.
Eduardo del Rio is a commercial and fine artist living in New York City. Select work can be viewed at http://www.pencilprone.com.
Visit http://www.thekingrat.com and let's expose some rats!
###