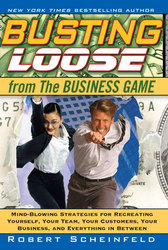 Stop stressing about the economy and don't worry about achieving your business-related goals. It is all an illusion that can be transformed in extraordinary ways, says New York Times Bestselling author Robert Scheinfeld.
Charlottesville, VA (PRWEB) July 14, 2009
"Stop stressing about the economy and don't worry about achieving your business-related goals. It is all an illusion that can be transformed in extraordinary ways, says New York Times Bestselling author Robert Scheinfeld. "You can have much more fun, while experiencing your ultimate lifestyle." Scheinfeld shows you how to create "True Success" in his new book Busting Loose from The Business Game: Mind-Blowing Strategies for Recreating Yourself, Your Team, Your Customers, Your Business and Everything in Between (Wiley Publishers, on sale: June 22, 2009).
Busting Loose from The Business Game is based on Scheinfeld's controversial work as a Transformational Coach, where he has helped tens of thousands of people in over 190 countries transform their definitions of business and personal success. The book focuses on a complete paradigm-shifting program leading to the "next generation" of success and self-help strategies. Many of his students have expressed that his simple, yet powerful process makes other self-help systems obsolete.
The New Business Game, he argues, has nothing to do with the "old rules of business" and instead focuses on a radically different set of rules, regulations and way of playing -- leading to a life of True financial independence, True freedom, fun and relaxation.
Those playing The New Business Game know they cannot win The Old Business Game -- the old business model creates a never ending cycle that just leads to more stress, more fear and a desire for more money and security. Their goal is to bust loose from the Old Business Game entirely, not try to win it -- and they achieve that goal by following the path offered in Robert's book and escaping (permanently and completely) the mundane and stressful aspects of business.
Scheinfeld reveals a simple process that when applied over time supports people in shifting their perceptions about themselves and business in radical ways. He shows them how to tap new sources of power, guidance and abundance to produce extraordinary results, and be impervious to the outside forces that have affected their businesses and careers historically.
Anyone taking an objective look at the global economy right now knows that the traditional business models are not working. People, worldwide continue to experience the Old Business Game illusions of stress, burn-out and workaholism. "They don't have to anymore," Scheinfeld says. "There is now an alternative. They can start playing The New Business Game which changes everything."
Robert Scheinfeld is often referred to as the wild man of self help because his transformational models, ideas, techniques and strategies challenge every aspect of the status quo of how to succeed in business and life. He is the author of a bestselling Nightingale-Conant audio program and three bestselling books - New York Times bestseller, Busting Loose from The Money Game, and also the bestsellers The Invisible Path to Success and The 11th Element.
Robert began his path to discovering True Success at age twelve when his tycoon grandfather (founder of Manpower, Inc., the world's largest temporary help service and Fortune 150 company) told him True Success is based on your ability to tap power in "the invisible world." Unfortunately his grandfather died before he could finish teaching Robert about the invisible world and other secrets of his success.
Scheinfeld, however, was determined to unlock the mystery of success by discovering the inner workings of his grandfather's invisible world. During his journey, Robert spent over 33 years on what he now calls "The Treasure Hunt of the Century." Along the way, he became a multimillionaire (and self-proclaimed stressed-out maniac), plunged $153,000 in debt, and spent seven years struggling before he solved the mystery his grandfather left him with at such a young age. Busting Loose from The Business Game reveals his discoveries and how they can be applied to create True Success in business and life.
Those who follow Robert's methods claim to discover their True Purpose and have much more fun playing the New Business Game -- experiencing more joy, peace, relaxation and abundance than they thought possible.
"...this book will open your eyes to many new possibilities. It will stretch and challenge you in powerful ways and open new doors of opportunity for you."
--John Assaraf, New York Times bestselling author of The Answer
Busting Loose from The Business Game teaches businesspeople to:

Stop worrying about sales, marketing, profits, cash flow, taxes, other people, or personal income. It is an illusion established by Old Business thinkers. Start enjoying the New Business Game.
Stop seeing money as being limited. It is an illusion that there are not enough resources to live comfortably or luxuriously. Start enjoying business and letting money effortlessly flow in.
Stop blaming the economy, stock market, or competition for failures. Start learning how to live a life of abundance and get rid of the fear of outside problems forever.
Stop working around the clock. It is an illusion that businesspeople must spend every waking hour working to get ahead. Start having more fun with less effort.
Stop doing unpleasant things that lead to unhappiness. The Old Business Game says that players must be disciplined and force themselves to things they don't want to do order to be successful. Start doing only what they love to do -- all day, every day.
"My new book challenges you to take a fresh look at everything you once thought to be true, real and 'the way it works'," says Scheinfeld. "Busting Loose from The Business Game is the ultimate guide to experiencing True Success by busting loose from everything that once limited and restricted you."
To learn more about the author or about his book, visit http://www.bustingloosefromthebusinessgame.com.
###