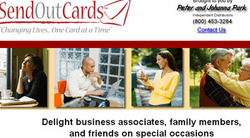 Our company is in the business of encouraging our customers to show sincere appreciation and gratitude to their friends, family, and business clients every single day
Saint Paul, MN (PRWEB) September 24, 2008
Although the holiday season is still months away, businesses across the country are already hurrying to finalize their greeting card lists and gift-giving plans. Many businesses, even very small ones, must start this process far in advance because the sheer volume of employees, customers and professional contacts can make it an overwhelming task to send out business holiday greeting cards.
UnexpectedThankYou, LLC, President Peter Park, a corporate trainer who promotes the benefits of expressing thankfulness in the workplace, hopes the customized greeting card services at unexpectedthankyou.com will make it easier for businesses to extend gratitude during the holiday season and year round.
Peter Park is an official distributor of SendOutCards, an online company that specializes in streamlining the process of sending business greeting cards, business thank you note cards and thoughtful gifts. The SendOutCards catalog includes creative customized greeting cards for virtually every occasion, as well as a large collection of gifts that includes books, magazines and gourmet candies and baked goods.
The advantage of unexpectedthankyou.com is that it combines the ease of sending e-cards with the impact of sending thoughtful, hand-signed cards and professional gifts. Customers can customize, purchase and send complete business holiday greeting cards and gift packages directly from the site, and their gift recipients will receive tangible, premium quality gifts via mail rather than simple e-cards in their e-mail inboxes.
"Our company is in the business of encouraging our customers to show sincere appreciation and gratitude to their friends, family, and business clients every single day," explains Park. "We strive to be recognized for our innovative and creative approach to building loyal relationships. In this way we can become one of America's great success stories."
Park's primary business is conducting corporate training seminars in which he reveals the importance of exhibiting thankfulness in the business world as well as in personal relationships. He started unexpectedthankyou.com as a way of helping his students transition from understanding the significance of gratitude to putting it into practice in their daily lives.
One element that makes an unexpectedthankyou.com card so personal is SendOutCards' ability to match the handwriting of its card senders. Customers can fill out and submit handwriting and signature forms, which can be digitally scanned and used to reproduce any custom message in the sender's distinct handwriting.
To learn more about Park's customized business thank you note cards and gifts, please visit unexpectedthankyou.com.
About unexpectedthankyou.com:
Unexpectedthankyou.com makes it easy for users to send personalized business thank you note cards, holiday greeting cards, birthday greetings and premium quality gifts. The site gives customers complete control over the style and content of each card or gift, and each purchase includes the services of professional gift designers. Peter Park is an official distributor of SendOutCards.
###