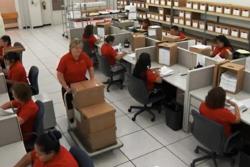 BancTec's objective is to address the root causes of process inefficiency -- yielding improvements that can enrich the customers' bottom line for years to come.
Orlando, FL (PRWEB) September 12, 2011
While an increasing number of companies today are outsourcing financial and back-office processes to reduce their labor costs, too many are missing out on an even bigger opportunity: to automate and optimize their processes before outsourcing them. That's why BancTec will showcase "Intelligent BPO" (iBPO), a smarter way to outsource, at the Gartner Outsourcing & Vendor Management Summit in Orlando, Fla., Sept. 12-14.
"Companies that choose Intelligent BPO with BancTec aren't satisfied with the easy-to-achieve returns of labor arbitrage. They want something fundamentally more valuable," said Sue Barnhill, director of portfolio marketing for BancTec. "With our iBPO offerings, BancTec's objective is to address the root causes of process inefficiency -- yielding improvements that can enrich the customer's bottom line for years to come."
iBPO leverages BancTec's proprietary IP and deep vertical expertise to help clients achieve lower costs, reduced business risk, enhanced customer service and improved business intelligence. The iBPO methodology includes four basic components:
1. Envision. BancTec offers process optimization consulting to thoroughly evaluate the financial and back-office processes that will benefit most from outsourcing. BancTec experts listen to the client, and based on knowledge of best practices and hands-on experience in implementing solutions, they identify and prioritize opportunities for performance improvement.
2. Design. BancTec's process engineers redesign processes to drive efficiency every day – but they also understand that every client is different. In some cases, process changes are implemented prior to outsourcing. In others, the process is transitioned as is, with a plan for re-engineering it over time.
3. Transition. The migration of a client process to a BancTec iBPO Center of Excellence is handled with the utmost attention to detail, with the goal of providing a seamless operational transition and uncompromising confidentiality and security. Industry-specific solutions bring specially trained staff and technology to key business processes.
4. Optimize. BancTec provides a wealth of reporting information to help clients monitor their success in outsourcing a business process. The reporting of all performance indicators is available on a daily, weekly or monthly basis, providing a transparent view of the newly optimized process.
BancTec's iBPO services encompass payment processing, claims processing, accounts payable and receivable, inbound mail processing, and healthcare revenue cycle management. The company offers focused, flexible services tailored to the financial services, manufacturing, utility, government and healthcare sectors.
About Gartner Outsourcing & Vendor Management Summit
The Gartner Outsourcing & Vendor Management Summit is the only event that provides a comprehensive view of the entire outsourcing market — infrastructure, application and business process outsourcing, global delivery and the use of offshore providers, as well as issues and trends about new delivery models, such as SaaS. The Summit provides unbiased, road-tested advice and best practices necessary for setting outsourcing strategies and objectives, evaluating and selecting the right service providers and managing relationships with them. Additional information is available at http://www.gartner.com/technology/summits/na/outsourcing/.
About BancTec
BancTec is a global leader in business process outsourcing (BPO), providing financial transaction automation and document management services for organizations seeking to drive efficiency in their financial and back-office processes. Headquartered in Dallas with clients in 50 countries, BancTec leverages its proprietary IP and deep expertise to provide flexible, focused solutions across the financial services, insurance, healthcare, utility, transportation and government sectors. The company operates 19 BPO centers in the United States and worldwide, utilizing a common technology platform to deliver reliability, security, and consistently high levels of performance. To learn more, visit http://www.banctec.com or call 1-800-BANCTEC.
# # #