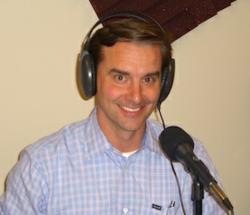 Forums like BrandMoney are excellent ways for increasing everyone's understanding of this powerful business model
Atlanta, GA (PRWEB) November 08, 2011
On Wednesday, October 26th, 2011, Atlanta Business RadioX Host Pete Canalichio was joined in-studio by Nat Milburn of Newell Rubbermaid to discuss how Newell Rubbermaid successfully employs alternative business models to build its brands and share his perspective on key challenges facing the brand licensing industry today.
"Having worked in various brand building roles for both Newell Rubbermaid and The Coca-Cola Company, Nat has been considered a major thought-leader in the brand licensing industry for more than fifteen (15) years. So, our listeners really found it fascinating to hear Nat's perspective on a breadth of topics and some recent industry news, including the recent announcement that Sears Holdings is considering building their Kenmore, Craftsman and Die Hard brands via licensing," said host Pete Canalichio.
During the interview, Pete and Nat also discussed the challenges of conveying the value of brand licensing to senior management inside an organization, how to put together a compelling brand story for prospective manufacturers and how to maintain product quality inside a brand licensing program. Listeners also learned how companies can best leverage alternative growth models to build brands that are "Best-in-Class and Built to Last". Advice was also given to companies interested in the possibility of working with Newell Rubbermaid.
Excited about the opportunity to help launch BrandMoney on Business RadioX, Milburn had this to say; "Forums like BrandMoney are excellent ways for increasing everyone's understanding of this powerful business model. We definitely need more forums like BrandMoney to illuminate greater understanding among people across the industry." Milburn also said, "I like that the name they've chosen for the show (BrandMoney) accurately reflects the right order of things: 'Brands Before Revenue.' If you want to drive maximum value for everyone in these relationships, then a disciplined approach to building rather than simply borrowing from a brand's equity is the only way to go," Milburn said.
The interview can be heard in its entirety online visit the BrandMoney Shows page for Atlanta Business RadioX, http://brandmoney.businessradiox.com/shows/.
About Pete Canalichio:
Pete Canalichio, the host of BrandMoney, is a brand licensing strategist with over 20 years of experience. Having worked in brand licensing for companies such as The Coca-Cola Company and Newell Rubbermaid, Pete has come to be considered an expert on the subject and is repeatedly asked to speak at branding and licensing conferences and leading business schools globally. Pete is also the founder of Licensing Brands, Inc., a company dedicated to helping brand owners and manufacturers harness the power of brand extensions through licensing. His agency executed Coca-Cola's Olympic licensing program for Vancouver 2010 and provides DIY Tools for branding professionals. Pete holds an MBA from the Kenan-Flagler Business School at the University of North Carolina and a BS from the United States Naval Academy. To learn more about Licensing Brands, visit http://www.BrandLicensingExpert.com.
About BrandMoney:
BrandMoney is a weekly radio show dedicated to increasing knowledge about the brand licensing industry. The show airs on Atlanta Business RadioX Wednesdays at 1PM EST and is hosted by branding experts Pete Canalichio and Bill Jachthuber. Guests include brand owners, manufacturers, service providers, agencies and brand licensing organizations. Topics include industry news and discussion, case studies of successful product launches, careers and career paths in brand licensing, and pitfalls to avoid. To listen to BrandMoney, visit http://www.BrandMoney.BusinessRadioX.com.
About Atlanta Business RadioX:
Atlanta Business RadioX provides a turnkey solution for business owners who want to leverage the power of internet radio to meet their best prospects, establish credibility for their organization and heighten the placement of their brand in search engines rankings. With a professional venue and a proven formula, Atlanta Business RadioX helps hosts podcast their shows and create a regular stream of dynamic content to share with their prospects and feed the search engines every week. Programs are recorded and streamed live to the internet from our corporate offices in suburban Atlanta. For more information or to see a live show, visit: http://www.BusinessRadioX.com.
###