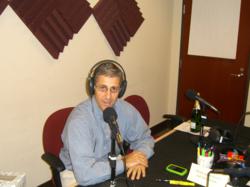 Daye and Dawson have their fingers on the pulse of what top brands are doing...
Atlanta, GA (PRWEB) November 15, 2011
On Wednesday, November 2nd, 2011, Atlanta Business RadioX™ co-hosts Pete Canalichio and Bill Jachthuber sat down with Derrick Daye and Thomson Dawson of The Blake Project to discuss what makes a successful brand and how brands can be built or destroyed over time. With examples from the impact of Kim Kardashian's divorce on her brand, to how FootJoy is reaching a younger audience to how Food Lion broke out to reach an upscale consumer with the launch of Bloom, their newest grocery store chain, Derrick and Thompson illustrated the core criteria needed for brands to grow over time.
During the interview, Canalichio announced the merger of his company Licensing Brands, Inc. with The Blake Project saying "Daye and Dawson have their fingers on the pulse of what top brands are doing and must do every day to stay relevant and meaningful in the minds of their consumers. As practitioners and thought leaders, they work with the world's greatest companies to help them redefine their brand strategy. Any successful brand licensing program has to start with a solid brand strategy foundation which is why I'm so excited to announce this merger. Now our clients will gain the benefit of expertise from the world's top brand strategists".
United under The Blake Project brand, the new company extends its expertise to brand licensing and its footprint to Atlanta. Daye adds "The merger bolsters our approach to helping organizations release the full potential of their brands".
As the interview continued, the four discussed The Blake Project's core competencies of brand strategy, brand licensing, brand research and brand education and explained that this blend of expertise creates a unique vantage point from which to serve clients. Dawson notes. "As practitioners and educators the company works closely with brand marketers and brand stakeholders to build a strategic advantage in the marketplace. Through a proprietary process we transfer knowledge via tools and workshops to ensure our clients are equipped to best manage their brands going forward".
The interview can be heard in its entirety online on the BrandMoney Show page for Atlanta Business RadioX™.
About Pete Canalichio:
Pete Canalichio, co- host of BrandMoney, is a brand licensing strategist with over 20 years of experience. Having worked in brand licensing for companies such as The Coca-Cola Company and Newell Rubbermaid, Pete has come to be considered an expert on the subject and is repeatedly asked to speak at branding and licensing conferences and leading business schools globally. Pete is also the founder of Licensing Brands, Inc., a company dedicated to helping brand owners and manufacturers harness the power of brand extensions through licensing. His agency executed Coca-Cola's Olympic licensing program for Vancouver 2010. Pete holds an MBA from the Kenan-Flagler Business School at the University of North Carolina and a BS from the United States Naval Academy. To learn more about Licensing Brands, visit http://www.BrandLicensingExpert.com.
About Bill Jachtuber:
Bill Jachthuber, co-host of BrandMoney, is an innovative and insightful marketing leader with over twenty-five years experience. He has expertise in developing and implementing brand licensing programs to grow brand awareness and unlock the equity in consumer trademark brands. As the leader of the licensing program for Cinnabon, Bill created over 70 innovative new products through strategic licensing partnerships which enhanced the Cinnabon equity with consumers across the United States.
About BrandMoney:
BrandMoney is a weekly radio show dedicated to increasing knowledge about the brand licensing industry. The show airs on Atlanta Business RadioX™ Wednesdays at 1PM EST and is hosted by branding experts Pete Canalichio and Bill Jachthuber. Guests include brand owners, manufacturers, service providers, agencies and brand licensing organizations. Topics include industry news and discussion, case studies of successful product launches, careers and career paths in brand licensing, and pitfalls to avoid. To listen to BrandMoney, visit http://www.BrandMoney.BusinessRadioX.com.
About Atlanta Business RadioX™:
Atlanta Business RadioX™ provides a turnkey solution for business owners who want to leverage the power of internet radio to meet their best prospects, establish credibility for their organization and heighten the placement of their brand in search engines rankings. With a professional venue and a proven formula, Atlanta Business RadioX™ helps hosts podcast their shows and create a regular stream of dynamic content to share with their prospects and feed the search engines every week. Programs are recorded and streamed live to the internet from our corporate offices in suburban Atlanta. For more information or to see a live show, visit: http://www.BusinessRadioX.com.
###