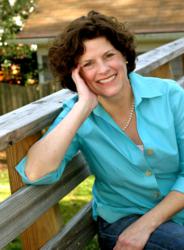 Jiffy calls herself and "unexpected entrepreneur" and says that, "the biggest challenge to Pixorium has been me. I am not a natural entrepreneur."
Atlanta, GA (PRWEB) February 20, 2012
On Monday January 23rd, Jennifer "Jiffy" Page, owner of Pixorium joined Chic Perspectives Radio host Elizabeth Gordon at the new studio at 200 Peachtree Street to talk about the creation of Atlanta's photo-storytelling company and her unexpected role as entrepreneur.
Jiffy calls herself and "unexpected entrepreneur" and says that, "the biggest challenge to Pixorium has been me. I am not a natural entrepreneur." She started the business because she was frustrated by how hard it was to manage her own family's pictures and then was devastated to learn of the despair of hurricane victims who had lost all of their family photographs. As someone who treasures family stories and photos, she knew she had to start Pixorium to help people protect those memories. Despite her challenges learning to be a successful entrepreneur, Jiffy says it's all worth it because, "we get to do stuff that matters every single day."
During the interview, host Elizabeth Gordon noted that with all the online services available today, Pixorium really stands out thanks to the personal service they provide. She notes, "Jiffy Page has built a company that is touching the lives of so many Atlantans and helping them safeguard their valuable family history. Clients enjoy a personal consultative approach to preserving their pictures and treasure these custom-made creations for generations."
To learn more about Pixorium, tune into the interview online at the Chic Perspectives Radio page for Atlanta Business RadioX™.
About Elizabeth Gordon:
Elizabeth Gordon is President of Flourishing Business, a boutique Change Management and Growth Consulting firm, and best-selling author of The Chic Entrepreneur: Put Your Business in Higher Heels (RDR 2008). Her company has consulted for hundreds of public and privately held businesses and government entities, helping them to successfully implement large scale change initiatives and realize returns on acquisitions and enterprise software investments. Recognized by the Atlanta Business Chronicle with the prestigious 40 Under 40 Award, Gordon has played an influential role in the business community, having served on the board of directors of National Association of Women Business Owners and American Association of University Women. Elizabeth is on the Advisory Council for Wake Forest University's Center for Innovation, Creativity, and Entrepreneurship.
About Chic Perspectives:
http://chicperspectives.businessradiox.com
Chic Perspectives Radio explores business from a woman's point of view. Guests include top women business owners, executives and experts from across the world who are adding style to the substance of building a company. Topics include fashion, style, trends, image, décor, psychology, products and services that cater to women and how to master the powerful male-female dynamic in a work setting. The show features a monthly roundtable discussion that highlight business trade associations geared specifically for women.
About Atlanta Business RadioX™:
Atlanta Business RadioX™ provides a turnkey solution for business owners who want to leverage the power of internet radio to meet their best prospects, establish credibility for their organization and heighten the placement of their brand in search engines rankings. With a professional venue and a proven formula, Atlanta Business RadioX™ helps hosts podcast their shows and create a regular stream of dynamic content to share with their prospects and feed the search engines every week. Programs are recorded and streamed live to the internet from our corporate offices in suburban Atlanta. For more information or to see a live show, visit: http://www.BusinessRadioX.com.
###