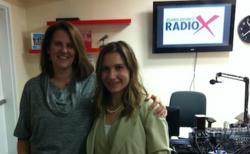 It's great to see a company like Celtic Testing Experts bringing jobs back to the US and specifically back to Georgia...
Atlanta, GA (PRWEB) April 09, 2012
On Thursday February 23rd, Kelly Kierans, President of Celtic Testing Experts joined C-Suite Exclusives Radio host Elizabeth Gordon to talk about the changes in the IT business and specifically in Quality Assurance testing practices that led to the creation of Celtic Testing Experts.
On the show Kelly discussed how she and her husband started and grew the company based on addressing customers desire to have IT testing handled onshore. Kelly talked about challenges and achievements and the opportunity they see for the future as more companies are interested in bringing more of their IT back onshore and having a team of external resources to augment their internal team. She added, "We've benefited greatly from mentors in the Atlanta IT business community. They've taught us about leadership and business and I am grateful to have so many successful businesspeople as trusted advisors to help us make smart decisions as we grow our business".
Host Gordon noted that after seeing so many jobs leave the country in the past several decades, "it's great to see a company like Celtic Testing Experts bringing jobs back to the US and specifically back to Georgia".
To learn more about Celtic Testing Experts,tune into the interview online at the C-Suite Exclusives Radio page for Atlanta Business RadioX™.
About Elizabeth Gordon:
Elizabeth Gordon is President of Flourishing Business, a boutique Change Management and Growth Consulting firm, and best-selling author of The Chic Entrepreneur: Put Your Business in Higher Heels (RDR 2008). Her company has consulted for hundreds of public and privately held businesses and government entities, helping them to successfully implement large scale change initiatives and realize returns on acquisitions and enterprise software investments. Recognized by the Atlanta Business Chronicle with the prestigious 40 Under 40 Award, Gordon has played an influential role in the business community, having served on the board of directors of National Association of Women Business Owners and American Association of University Women. Elizabeth is on the Advisory Council for Wake Forest University's Center for Innovation, Creativity, and Entrepreneurship.
About C-Suite Exclusives:
http://c-suiteexclusives.businessradiox.com/
C-Suite Exclusives features the prominent leaders of growing companies, both local and global as we seek to understand the secret of their success. Business is multi-dimensional and so are its leaders. Join us for an exclusive peek behind the closed doors of America's most envied offices. Host Elizabeth Gordon brings in top executives to we find out what's in their minds and hearts as they chart the future course of the economy through their leadership and innovation.
About Atlanta Business RadioX™:
Atlanta Business RadioX™ provides a turnkey solution for business owners who want to leverage the power of internet radio to meet their best prospects, establish credibility for their organization and heighten the placement of their brand in search engines rankings. With a professional venue and a proven formula, Atlanta Business RadioX™ helps hosts podcast their shows and create a regular stream of dynamic content to share with their prospects and feed the search engines every week. Programs are recorded and streamed live to the internet from our corporate offices in suburban Atlanta. For more information or to see a live show, visit: http://www.BusinessRadioX.com.
###