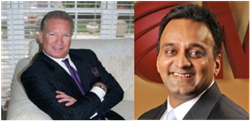 ...new technologies are allowing first responders and public safety officials to be more effective when handling emergencies.
Atlanta, GA (PRWEB) January 24, 2013
On Friday January 18th, 2013, Disruptive Business Radio Host Micah Porter and co-host Dana Barrett were joined in the downtown Atlanta Business RadioX® studio by were joined by Prince Niyyar, President of Commdex Consulting and Gary Gross with Mercury Development for a discussion of technology in the public sector focusing on the new technologies that are allowing first responders and public safety officials to be more effective when handling emergencies. Gary Gross brought his considerable knowledge of mobile apps to the discussion and shared a little bit about the type of work Mercury Development is doing.
Prince Niyyar is the President and Chief Executive Officer of Commdex Consulting, LLC. Since its inception in 2001, the company has grown into a recognized national leader in wireless communications technology, with operations in over 18 states and was listed on Inc. Magazine's Inc. 500 list of "Fastest growing private companies in the nation" in 2011.
Gary Gross is responsible for management of business development, sales, and strategic alliances at Mercury Development. His role is to ensure that companies around the globe continue to look to Mercury Development for optimized mobile apps to help them achieve their corporate strategies. During his 20-year career, Gary has worked with technologies such as SaaS, ERP, CRM, and ASP. He has extensive experience with development and collaboration software, virtual events, IT security, and webcasting. He currently serves on the Board of the Mobility Society for the Technology Association of Georgia.
To learn more about techology for first responders and custom mobile apps in a variety of sectors, listen to the complete interview on the Disruptive Business Radio page for Business RadioX®
http://disruptivebusiness.businessradiox.com/2013/01/18/commdex-consulting/
About Disruptive Business Radio
http://disruptivebusiness.businessradiox.com/
Disruptive Business radio celebrates individuals and businesses that change the game by featuring cutting edge organizations and the innovative leaders who guide them. The show is hosted by Micah Stone and Dana Barrett and is a joint production of Business RadioX® and Minerva Planning Group.
About Business RadioX® :
Business RadioX® provides a turnkey solution for business owners who want to leverage the power of internet radio to meet their best prospects, establish credibility for their organization and heighten the placement of their brand in search engines rankings. With a professional venue and a proven formula, Business RadioX® helps hosts podcast their shows and create a regular stream of dynamic content to share with their prospects and feed the search engines every week. Programs are recorded and streamed live to the internet from our studios in the greater Atlanta area. For more information or to hear a live show, visit: http://www.businessradiox.com.