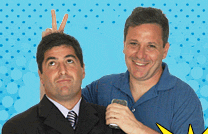 Billy Blanks is an exercise legend. He keeps coming back and re-inventing himself with new workouts that push our bodies and our minds.
Atlanta, GA (PRWEB) November 28, 2011
On Thursday October 27th, 2011, Atlanta Business RadioX™ Hosts Dr. Adam Shafran and Lee Kantor had a chance to chat with exercise guru Billy Blanks on the Dr. Fitness and the Fat Guy show. Host Lee Kantor says "You know, we recently interviewed his son Billy Blanks Jr. and now an interview with the original Billy Blanks – this means we have completed the whole Blanks family collection."
Blanks has sold over 100 million copies of his Tae Bo exercise DVDs all over the world and has been in Japan for the last 3-4 years continuing his martial arts studies. While there he created a brand new program called PT 24/7. In Japan he quickly noticed that the Japanese people weren't really struggling with weight loss issues, but rather with stress. Knowing that exercise is an amazing stress reliever Blanks went back to the drawing board to come up with something to help the Japanese. The program that came out of that effort is a workout program specifically designed help lower stress. But of course, by following his exercise and nutrition program you also get in great shape and lose weight as a bonus.
During the interview, Dr. Fitness noted that his son actually tried the program and really enjoyed it. He says, "He couldn't wait to put on the gloves and start swinging and kicking away." In addition to chatting about the new DVD program, the hosts got an update on some of the other projects Billy is currently working on. He will be in Tampa to try to break the World Record for most kick boxers in a class to help raise money for the National Autism Association - a charity that he holds close to his heart. Also look for a cameo with Billy in the new Adam Sandler film Jack and Jill. On that note Billy added "If you know anyone who can connect me with the producers of the new Expendables movie with Sylvester Stallone I'd love to get into action movies!"
Dr. Shafran summed up the interview by saying, "Billy Blanks is an exercise legend. He keeps coming back and re-inventing himself with new workouts that push our bodies and our minds." The complete interview can be found on The Dr. Fitness and The Fat Guy blog.
About Dr. Fitness and the Fat Guy:
Dr. Adam Shafran and Lee Kantor have broadcast hundreds of Dr. Fitness and the Fat Guy shows on topics such as: weight loss tips, easy healthy eating tricks, quick strength training workouts, fitness gadgets that work like the Jump Snap or the Stress Eraser, great diet books, how to run a 5k or marathon, diet books to avoid, fad diets, scam diet pills, how to peel a pomegranate, how to look like a playboy playmate and what's true and what's too good to be true in health and wellness. They also co-authored the book You Can't Lose Weight Alone: The Partner Power Weight Loss Program.
About Atlanta Business RadioX™:
Atlanta Business RadioX™ provides a turnkey solution for business owners who want to leverage the power of internet radio to meet their best prospects, establish credibility for their organization and heighten the placement of their brand in search engines rankings. With a professional venue and a proven formula, Atlanta Business RadioX™ helps hosts podcast their shows and create a regular stream of dynamic content to share with their prospects and feed the search engines every week. Programs are recorded and streamed live to the internet from our corporate offices in suburban Atlanta. For more information or to see a live show, visit: http://www.BusinessRadioX.com.
###