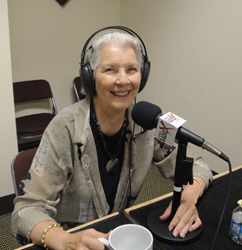 Outsourcing can enable you to focus on your business and free up your time and resources.
Atlanta, GA (PRWEB) June 28, 2013
On June 24, 2013, co-hosts Stone Payton and Lee Kantor of BusinessRadioX®'s High Velocity Radio welcomed to the studio Pat Harmeyer with EinsteinHR to discuss outsourcing human resources services.
Pat Harmeyer is a Sales and Marketing professional with EinsteinHR, a Professional Employer Organization (PEO) that provides HR outsourcing services for both mid-sized and small emerging growth companies. According to Harmeyer, "We work with medium sized companies as an extension of their HR function to provide benefits to and help manage their workforce talent. We also work with small companies to provide a comprehensive HRO solution to help them attract the right individuals to balance out their team for continued success."
Harmeyer explained that EinsteinHR uses web based programs to help companies save time and money by handling their HR administrative needs, including Payroll, Workers' Comp, employee benefit programs, and ensuring legal compliance with all regulations.
Outsourcing to a PEO provides a variety of benefits, from cost savings to access to specialized expertise on taxes, payroll, workers' compensation and more. Said Harmeyer, "Outsourcing can enable you to focus on your business and free up your time and resources." In addition to full outsourcing, Einstein also offers co-employment, described by Harmeyer as "a relationship between EinsteinHR and a client, in which we are responsible for handling the requirements of the IRS, Social Security, Unemployment, and more." EinsteinHR becomes the employer of record as it relates to W-2′s, issuing payroll checks, and working with compliance and regulatory matters.
To hear more about Pat Harmeyer and EinsteinHR, tune in to High Velocity Radio.
About Stone Payton:
For over 24 years, Stone Payton has been helping organizations and the people who lead them drive their business strategies more effectively. He is a managing partner at BusinessRadioX® and the author of SPEED®: Never Fry Bacon In The Nude: And Other Lessons From The Quick & The Dead, and has dedicated his entire career to helping others produce better results in less time.
About Lee Kantor:
Lee Kantor has been involved in Internet radio, podcasting and blogging since he started the Dr. Fitness and the Fat Guy show in 2005. Since then, Lee has interviewed well over 1000 entrepreneurs, business owners, authors and celebrities on a variety of shows and at live events. In addition to his hosting duties, Lee is a managing partner at BusinessRadioX® and is committed to helping entrepreneurs and business owners in Atlanta learn how to use radio to dramatically grow their businesses.
About High Velocity Radio:
http://highvelocityradio.businessradiox.com
High Velocity Radio celebrates Top Performers Producing Better Results In Less Time. The show brings in business leaders and experts to talk about their methods and to help listeners develop the Competence, Confidence, and Commitment to Succeed With SPEED.
About BusinessRadioX®:
BusinessRadioX® provides a turnkey solution for business owners who want to leverage the power of internet radio to meet their best prospects, establish credibility for their organization and heighten the placement of their brand in search engines rankings. With a professional venue and a proven formula, BusinessRadioX® helps hosts podcast their shows and create a regular stream of dynamic content to share with their prospects and feed the search engines every week. Programs are recorded and streamed live to the internet from our studios in the greater Atlanta area. For more information or to hear a live show, visit: http://www.businessradiox.com.