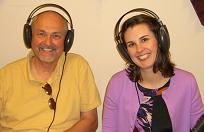 Atlanta, GA (PRWEB) September 26, 2011
Last month, Atlanta Business RadioX Hosts Meredith Moore and Dwayne Samples sat down with father-daughter team Phil and Leslie Kuban to talk about their experiences helping individuals and families find success through franchising.
"Leslie & Phil provided us with insight into FranNet, and the world of franchising. As a bonus, they provided us with insights into the dynamics of a successful business partnership between two strong, vibrant personalities who just happen to be daughter and father," said Moore. Many family businesses struggle because of the family dynamics, but Leslie and Phil say they are thankful that their business has not experienced those kinds of problems. They say having defined roles helps, so they don't have to check with each other on every decision. And while they may not always agree, they trust each other's intentions.
In addition to sharing the details of how FranNet works for franchisors and franchisees, and how they work together, Phil and Leslie also talked about how they got into the business:
After college, Leslie went to work managing one of her father's interests, a struggling MailBoxes, Etc. franchise in Atlanta. She attended franchise training, used the resources of the franchisor and other local MBE owners, and built the store up to a healthy level after about one year. As per her agreement with her dad, when the store sold, she shared in the profit.
Leslie's success led other MBE owners to seek her out for consultation when they were struggling, when they opened a new store, or when they faced other challenges. One of her key observations during this time was that many people might be part of the same franchise system, they may have access to the same training and resources, but they don't all perform at the same level.
Phil got more involved after selling his business in 1998 when Leslie was consulting with MBE franchisees. Leslie had heard her parents talking about FranNet, an organization that matches potential franchise owners with franchisors and asked if this might be an opportunity for the two of them to go into business together. Soon after FranNet of Georgia was born.
Over the last 13 years, the company has experienced steady growth with some spikes related to the economy. As leaders of one of the top four FranNet offices in the nation, Phil and Leslie had the opportunity to become part owners of the entire company about five years ago. At the time, FranNet did not have franchise agreements with individual offices, but that changed under the new ownership. As a result, Phil and Leslie are in the rare position of being both a franchisee and franchisor for FranNet.
To learn more about franchising, tune into the interview online at the Family Business Radio page for Atlanta Business RadioX.
About Meredith C. Moore, LUTCF, CLTC, Owner, Moore Wealth Management:
One of Atlanta's Up and Comers, and among the city's Top 40 Under 40 according to the Atlanta Business Chronicle, Meredith Moore built a successful practice, Moore Wealth Management, which coordinates the financial affairs for a select group of families and family-owned businesses in the Greater Atlanta area. Since 1999, Meredith and her company have made a positive, long-term difference for hundreds of clients by providing estate planning, business succession planning, asset management and risk management.
About Dwayne Samples, President, Amplify Financial Advisors, LLC:
As President of Amplify Financial Advisors, LLC, Dwayne Samples utilizes experience as a Certified Financial Counselor, training as a Certified Public Accountant (CPA), real world experience operating a successful organization, and personal coaching and counseling skills to help people develop the habits necessary to begin a journey toward financial peace.
About FAMILY BUSINESS RADIO:
The mission of Family Business Radio is to create a radio and online community focused entirely on family-owned businesses. Our guests include family-business owners who give first-hand insight and share their stories of how they overcame obstacles, maintained strong-family bonds and built their business and their legacy. Family Business Radio shows also include interviews with expert advisors and key non-family executives who have filled vital roles and contributed to the overall success of family businesses.
About Atlanta Business RadioX:
Atlanta Business RadioX provides a turnkey solution for business owners who want to leverage the power of internet radio to meet their best prospects, establish credibility for their organization and heighten the placement of their brand in search engines rankings. With a professional venue and a proven formula, Atlanta Business RadioX helps hosts podcast their shows and create a regular stream of dynamic content to share with their prospects and feed the search engines every week. Programs are recorded and streamed live to the internet from our corporate offices in suburban Atlanta. For more information or to see a live show, visit: http://www.BusinessRadioX.com.
###