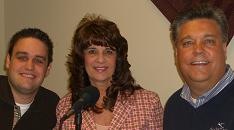 (The Judsons') insight on the changes they've seen in the nature of direct sales over the years is fascinating
Atlanta, GA (PRWEB) November 29, 2011
On Thursday October 20th, the Family Business Radio hosts were joined in-studio by
Tom and Carolyn Judson and son TJ who together own the Aloette Cosmetics franchise that covers Georgia, Florida and their home state of Michigan. In July, they purchased the Southern California franchise as well. In their first month of business, they brought in about $10,000 and 15 new recruits, or consultants. As the first year comes to a close, they expect to have about $350,000 in revenue and a total of 200 new people.
During the interview Tom explained that though he and his wife had been very successful as franchise owners with direct sales companies, they decided to take a sabbatical from owning their own business while Tom worked in the corporate world and Carolyn recovered from breast cancer and spent time at home with the couple's two children. Now, with older son, TJ, recently out of college, they've returned to a family business in direct sales, developing a legacy for their family to continue in the years to come.
Tom Judson started his sales career in 1986 with Tupperware Home Parties. By 1989, he was the top Tupperware consultant in the U.S. He and Carolyn took advantage of several direct sales franchise opportunities over the years, realizing great success with each one. In 2007, he became president of Aloette Cosmetics. About one year ago, he stepped away from that position to become a franchisee of Aloette and return to direct sales.
For over 30 years Aloette has been one of America's leading direct sales beauty companies, specializing in scientifically advanced skin care and makeup products featuring innovative ideas such as refillable magnetic compacts.
Host Meredith Moore had this to say, "Tom, Carolyn and TJ's lively discussion detailed their move from direct sales to corporate management back to a family business of direct sales. Their insight on the changes they've seen in the nature of direct sales over the years is fascinating."
When asked how the direct sales business has changed over the years, Tom explained, "The change in available technology has greatly impacted the business. Gone are the days of in-home demonstrations and sales parties. Instead, we host weekly webinars and hold them at different times of day. Training videos are online and available for consultants to view at any time, making it easier for women to fit direct sales careers into their families' schedules."
To learn more about the Judsons and Aloette Cosmetics tune into the interview online at the Family Business Radio page for Atlanta Business RadioX™.
About Meredith C. Moore, LUTCF, CLTC, Owner, Moore Wealth Management:
http://moorewealthmgmt.com
One of Atlanta's Up and Comers, and among the city's Top 40 Under 40 according to the Atlanta Business Chronicle, Meredith Moore built a successful practice, Moore Wealth Management, which coordinates the financial affairs for a select group of families and family-owned businesses in the Greater Atlanta area. Since 1999, Meredith and her company have made a positive, long-term difference for hundreds of clients by providing estate planning, business succession planning, asset management and risk management.
About Dwayne Samples, President, Amplify Financial Advisors, LLC:
http://amplifyadvisors.com
As President of Amplify Financial Advisors, LLC, Dwayne Samples utilizes experience as a Certified Financial Counselor, training as a Certified Public Accountant (CPA), real world experience operating a successful organization, and personal coaching and counseling skills to help people develop the habits necessary to begin a journey toward financial peace.
About FAMILY BUSINESS RADIO:
http://familybusinessradio.businessradiox.com
The mission of Family Business Radio is to create a radio and online community focused entirely on family-owned businesses. Our guests include family-business owners who give first-hand insight and share their stories of how they overcame obstacles, maintained strong-family bonds and built their business and their legacy. Family Business Radio shows also include interviews with expert advisors and key non-family executives who have filled vital roles and contributed to the overall success of family businesses.
About Atlanta Business RadioX™:
Atlanta Business RadioX™ provides a turnkey solution for business owners who want to leverage the power of internet radio to meet their best prospects, establish credibility for their organization and heighten the placement of their brand in search engines rankings. With a professional venue and a proven formula, Atlanta Business RadioX™ helps hosts podcast their shows and create a regular stream of dynamic content to share with their prospects and feed the search engines every week. Programs are recorded and streamed live to the internet from our corporate offices in suburban Atlanta. For more information or to see a live show, visit: http://www.BusinessRadioX.com.
###