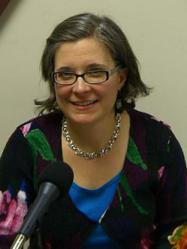 ...a family member entering the business needs to think three steps ahead about how anything he or she says will be received.
Atlanta, GA (PRWEB) May 01, 2012
On Thursday March 22nd, Stephanie Brun de Pontet, a senior associate with The Family Business Consulting Group, Inc. (http://www.efamilybusiness.com) joined Family Business Radio host Meredith Moore in-studio to share some tips for next generation family members who are joining an existing family business.
In her work for The Family Business Consulting Group, Inc., Stephanie Brun de Pontet, Ph.D. often helps family enterprises through important transitions, such as the on-boarding of new family member employees. She has worked with sibling teams, established governing structures for growing enterprises, and developed training programs to educate next generation family members. The 20 advisors of The Family Business Consulting Group, a Chicago-based firm, help families in business unify their values and goals while guiding them in the development of structure around the different systems of ownership, management and family.
Stephanie grew up as part of a family business and married into a family business and so became passionate about the world of family enterprises. She added a PhD in psychology to her business degree so she could work better with both the business structures and the family dynamics unique to family-held firms.
During the interview with Meredith, Stephanie spoke about common obstacles and challenges facing younger family members just entering the business such as; living under the microscope of public scrutiny, water cooler "talk", dealing with other family members when at work, fair compensation, and living up to the family legend. She suggests that in family businesses it's important to "think ahead about the situations that may arise—questions, remarks about the family and wealth, potential romantic relationships with employees—and consider how those will be handled." She adds, "a family member entering the business needs to think three steps ahead about how anything he or she says will be received."
Host Meredith Moore was delighted to have Stephanie in studio and says "Stephanie shared some invaluable advice on vital issues that are often overlooked when a younger family member enters the business."
To hear the interview in its entirety, go to the Family Business Radio page for Atlanta Business RadioX™.
About Meredith C. Moore, LUTCF, CLTC, Owner, Moore Wealth Management:
http://moorewealthmgmt.com
One of Atlanta's Up and Comers, and among the city's Top 40 Under 40 according to the Atlanta Business Chronicle, Meredith Moore built a successful practice, Moore Wealth Management, which coordinates the financial affairs for a select group of families and family-owned businesses in the Greater Atlanta area. Since 1999, Meredith and her company have made a positive, long-term difference for hundreds of clients by providing estate planning, business succession planning, asset management and risk management.
About Dwayne Samples, President, Amplify Financial Advisors, LLC:
http://amplifyadvisors.com
As President of Amplify Financial Advisors, LLC, Dwayne Samples utilizes experience as a Certified Financial Counselor, training as a Certified Public Accountant (CPA), real world experience operating a successful organization, and personal coaching and counseling skills to help people develop the habits necessary to begin a journey toward financial peace.
About FAMILY BUSINESS RADIO:
http://familybusinessradio.businessradiox.com
The mission of Family Business Radio is to create a radio and online community focused entirely on family-owned businesses. Our guests include family-business owners who give first-hand insight and share their stories of how they overcame obstacles, maintained strong-family bonds and built their business and their legacy. Family Business Radio shows also include interviews with expert advisors and key non-family executives who have filled vital roles and contributed to the overall success of family businesses.
About Atlanta Business RadioX™:
Atlanta Business RadioX™ provides a turnkey solution for business owners who want to leverage the power of internet radio to meet their best prospects, establish credibility for their organization and heighten the placement of their brand in search engines rankings. With a professional venue and a proven formula, Atlanta Business RadioX™ helps hosts podcast their shows and create a regular stream of dynamic content to share with their prospects and feed the search engines every week. Programs are recorded and streamed live to the internet from our corporate offices in suburban Atlanta. For more information or to see a live show, visit: http://www.BusinessRadioX.com.
###