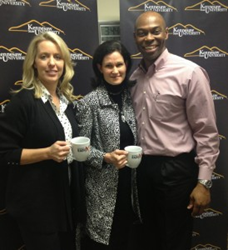 "Internalization, not emulation" will enhance your leadership ability.
Atlanta, GA (PRWEB) February 27, 2013
On Tuesday February 12th, 2013, Alvin Miles host of Global Leader Radio™ on Business RadioX®, was joined in-studio by Lisa Dugan, Chairperson of Vistage International and Partner & Executive Coach with Bixler Consulting Group and Stacie Hagan, the Executive Vice President of People and Corporate Processes with Earthlink, Inc. to talk about how to increase influence, develop future leadership and stay true to self.
Lisa Dugan served 17 years as a partner and executive coach with the Bixler Consulting Group, an executive coaching firm specializing in leadership development before moving to Vistage International. Her expertise lies in coaching C-level and high potential individuals of Fortune 1000 companies; enhancing a myriad of leadership qualities including strategic thinking, decision making, communication, and teambuilding skills. She is co-author of Take Action! 18 Proven Strategies for Advancing in Today's Changing Business World, and 5 Steps to Professional Presence.
Stacie Hagan is responsible for overall people strategy design and implementation as EVP for EarthLink, Inc. These responsibilities include organization design, workforce and succession planning, talent development, compensation, benefits, HRIS, recruiting, employee relations and compliance.
The two women discussed a variety of topics with Alvin including the following key points:
1. They suggest using a "stackpole" framework as a guide for what's important in life.
2. Having access to a "Think Tank" is critical to thoughtful leadership.
3. "Intelligent Hubs" are the glue in an organization.
4. Effective leaders utilize "CAREfrontation" to get their message across.
5. "Internalization, not emulation" will enhance leadership ability.
7. Reflection ensures alignment with life's purpose.
To learn more about the two leaders featured on the show, listen to the complete interview on the Global Leader Radio™ page for Business RadioX®.
About Global Leader Radio™
http://globalleaderradio.businessradiox.com/
Global Leader Radio™ airs Tuesdays at 2:30 p.m. Eastern on BusinessRadioX.com and features conversations with those responsible for cultivating high potential leadership in corporate, entrepreneurial and not-for-profit organizations. Host Alvin Miles and his guests Discuss Ideas that Matter With People Who Care℠ with a particular focus on those individuals and organizations doing an exemplary job of identifying, attracting, developing and retaining high potential talent.
Global Leader Radio™ is brought to you by the award-winning Executive MBA Program (EMBA) at the Michael J. Coles College of Business.
About Business RadioX® :
Business RadioX® provides a turnkey solution for business owners who want to leverage the power of internet radio to meet their best prospects, establish credibility for their organization and heighten the placement of their brand in search engines rankings. With a professional venue and a proven formula, Business RadioX® helps hosts podcast their shows and create a regular stream of dynamic content to share with their prospects and feed the search engines every week. Programs are recorded and streamed live to the internet from our studios in the greater Atlanta area. For more information or to hear a live show, visit: http://www.businessradiox.com.