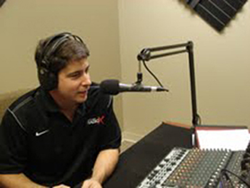 ...their business model represents the beginning of a paradigm shift in the way law will be practiced in the future.
Atlanta, GA (PRWEB) December 28, 2012
Gwinnett Business Radio host Mike Sammond closed out the year with a feature of four local businesses in the new Gwinnett County studio for on Business RadioX®. Joining Mike for the interview was co-host Steven Julian and guests Chris Abbey from Van Winkle Construction, Chris Wilson with FisherBroyles, LLP, Lynn Duffy from Citagus Software and Dave Hudson with Inside Edge Hockey.
Chris Abbey discussed his work with Van Winkle Construction, a third generation, Georgia-based general contracting firm that has been providing general contracting, construction management and design/build services to the Corporate, Medical, Religious, Education, Civic and Industrial market segments since 1931.
Chris Wilson was next up. He discussed his firm, FisherBroyles, LLP and their Law Firm 2.0® business model which prioritizes the highest quality of legal services by partners who have the most relevant expertise. He explained that this model aligns the interests of clients and attorneys by identifying and eliminating the inefficiencies of the traditional law firm model and said that "In many ways, FisherBroyles is like other large traditional law firms, except they eliminated unnecessary overhead and inexperienced attorneys and they utilize cloud computing technology to make it more efficient." He noted that this allows them to charge dramatically lower fees without sacrificing quality of service. Chris also noted that the firm "believes their business model represents the beginning of a paradigm shift in the way law will be practiced in the future." FisherBroyles currently has 75+ partners in 6 offices – Atlanta, Charlotte, Chicago, Dallas, New York City, and Palo Alto.
Host Mike Sammond next turned his attention to Lynn Duffey with Citagus Software. Citagus is an onsite/offshore IT Services Organization offering services and solutions primarily around Oracle and Microsoft Applications, Business Intelligence and Database Management.
Lynn explained that fas ex-PeopleSoft executives, the company excels in anything PeopleSoft which is now an Oracle Application Suite; Oracle eBusiness Applications, Microsoft CRM, Sharepoint and .Net applications. Implementing, upgrading, customizing, reporting are some of the services they provide for their clients.
In terms of Business Intelligence, she said they offer services around all the major platforms that provide analytics and data management to their clients and are focused on helping clients analyze their own data as well as that of their competition to form strategies for the future that will help them grow and ensure success.
Dave Hudson closed the show talking about his business, Inside Edge Hockey, which is a full service retail store and pro shop located in Duluth. He said you don't have to be a hockey player to shop there, explaining that "they welcome all skaters from beginner to pro, toddler to grizzled vet."
Dave is a seasoned survey/engineering veteran turned businessman. He talked about his decision to open the business and his plans for 2013. He also talked about the passion you have to have for your business and his own desire to translate his creative energy and vision into a successful business.
To learn more about the businesses featured on the show, listen to the complete interview http://gwinnettbusinessradio.businessradiox.com/2012/12/20/van-winkle-construction/ on the Gwinnett Business Radio page for Business RadioX®
About Gwinnett Business Radio
http://gwinnettbusinessradio.businessradiox.com/
Gwinnett Business Radio is a weekly show which broadcasts from the Business RadioX® studion in Gwinnett and is produced and hosted by veteran broadcaster and Mike Sammond. Mike works as a television reporter for the Olympic News Channel, recently covering the 2012 Summer Olympics in London and the 2010 Winter Olympics in Vancouver and also serves as a weekend talk show host on Sports Radio 92.9 The Game in Atlanta. Each week, Gwinnett Business Radio features Gwinnett County's top businessmen and businesswomen focusing on what makes them the best at what they do.
About Business RadioX® :
Business RadioX® provides a turnkey solution for business owners who want to leverage the power of internet radio to meet their best prospects, establish credibility for their organization and heighten the placement of their brand in search engines rankings. With a professional venue and a proven formula, Business RadioX® helps hosts podcast their shows and create a regular stream of dynamic content to share with their prospects and feed the search engines every week. Programs are recorded and streamed live to the internet from our studios in the greater Atlanta area. For more information or to hear a live show, visit: http://www.businessradiox.com.
###