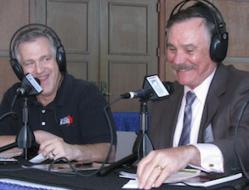 I learn more at this event than I do the rest of the year...
Atlanta, GA (PRWEB) April 26, 2012
On Thursday and Friday April 12th and 13th, the Healthcare Consumerism Radio show on Atlanta Business RadioX™ played an integral role in the IHC Forum East Conference held at the Cobb Galleria.
The live broadcast took place throughout the course of the two-day event put on by The Institute for Healthcare Consumerism, which was founded by Doug Field and Ron Bachman. The comprehensive interviews featured event attendees, speakers, sponsors, employers and solution providers who each spoke about their involvement in the healthcare industry and why healthcare consumerism is so critical.
Interviewee Jeff Brunsberg from Evolution 1 had this to say; "I think we have to do a better job of engaging with consumers directly and a better job of providing tools for them to engage with their health care." Ernie Harris from Ceridian added, "We started attending IHC two years ago, and I find it to be the single most valuable time I spend each year. It is a very highly concentrated collection of people from all facets of the business. I learn more at this event than I do the rest of the year and I think it is a great forum to advance the concept of Consumerism."
To here all of the interviews conducted at the forum, go to the Remote Broadcasts page for Atlanta Business RadioX™.
About Ron Bachman:
Ron Bachman, co-host of HealthCare Consumerism Radio, is the Editorial Chairman of HealthCare Consumerism. Ron is an actuary with extensive experience in healthcare strategies for payers, providers, and employers. He is also the President and CEO of Healthcare Visions, Inc., a company whose goal is to advance consumer based solutions to lower the number of uninsureds, improve mental health coverage, develop the concept of consumer-centric Medicare and Medicaid, and advance employer introductions of healthcare consumerism. Ron is a retired partner of PricewaterhouseCoopers where he consulted to a broad range of clients including: employers, HMOs, hospitals, physicians, indemnity carriers, BlueCross BlueShield plans, as well as State and Federal Agency clients.
About Doug Field:
Doug Field, co-host of HealthCare Consumerism Radio, is the CEO and founder of The Institute for HealthCare Consumerism. The Institute (transitioned from CDHC Solutions) continues its dedication to providing visionary tools for industry leaders to learn, connect and share their insights in the ever-changing healthcare consumerism landscape. Doug specializes in business building and leadership, sales and marketing, M&A and content development.
About HealthCare Consumerism Radio:
http://healthcareconsumerismradio.businessradiox.com/
HealthCare Consumerism Radio is a weekly show co-hosted by CEO and Founder of The Institute for HealthCare Consumerism, Doug Field and Editorial Chairman, Ron Bachman. The Show airs every Friday at 11 am. The goal of The Institute's radio show is to help listeners learn about the latest trends and best practices in health care consumerism and connect them with health care industry thought leaders, brokers, advisors, third party administrators, HR and benefit managers and regional health plan providers. Listeners are encouraged to share by contacting the hosts of the show and suggesting archives to industry associates.
About Atlanta Business RadioX™:
Atlanta Business RadioX™ provides a turnkey solution for business owners who want to leverage the power of internet radio to meet their best prospects, establish credibility for their organization and heighten the placement of their brand in search engines rankings. With a professional venue and a proven formula, Atlanta Business RadioX™ helps hosts podcast their shows and create a regular stream of dynamic content to share with their prospects and feed the search engines every week. Programs are recorded and streamed live to the internet from our corporate offices in suburban Atlanta. For more information or to see a live show, visit: http://www.BusinessRadioX.com.
# # #