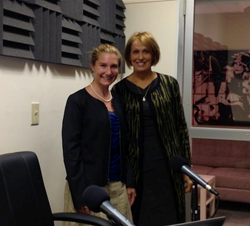 Everybody wants everything last week. It used to be that everyone wanted everything yesterday, but times have changed!
Atlanta, GA (PRWEB) October 15, 2012
On Tuesday October 9th, 2012, Elizabeth Gordon, host of Burr & Forman's Results Matter radio on Business RadioX®, was joined by Assistant General Counsel for Cox Communications and Winner of the Atlanta Business Chronicle ACC-GA's Lifetime Achievement Award to talk about her career and the challenges and benefits of working in-house.
When discussing the transition from working at a firm to going in-house, Kennedy advised that attorneys have to "give up being a specialist" and enjoy "knowing a little bit about a lot". She added that the way for in-house counsel to be successful in their jobs is to to have a "can-do" attitude and learn the business jargon of their particular industry. Kennedy also talked about how technology has increased the pace of business and law dramatically as compared to even 10 years ago and joked, "Everybody wants everything last week. It used to be that everyone wanted everything yesterday, but times have changed!"
In talking about working with outside counsel, Kennedy advised bringing them in as early possible when you know a project will warrant it. She explained that though the cost of using outside counsel is a barrier to bringing them in early, firms are now beginning to come up with new pricing models (other than hourly) in order to facilitate these relationships.
To learn more about Teresa Kennedy, Cox Communications or the Association of Corporate Counsel, listen to the complete interview on the Results Matter Radio page for Business RadioX®.
About Burr & Forman's Results Matter Radio
http://resultsmatterradio.businessradiox.com/
Results Matter Radio brings you pertinent business information and real life solutions to help drive desired results – whatever your business may be. We interview Business Leaders and Trusted Advisors about the most important issues in Commercial Real Estate, International Commerce, Healthcare, Family Business, Corporate Litigation, Finance, Philanthropy, Estate Planning, and more.
About Business RadioX® :
Business RadioX® provides a turnkey solution for business owners who want to leverage the power of internet radio to meet their best prospects, establish credibility for their organization and heighten the placement of their brand in search engines rankings. With a professional venue and a proven formula, Business RadioX® helps hosts podcast their shows and create a regular stream of dynamic content to share with their prospects and feed the search engines every week. Programs are recorded and streamed live to the internet from our studios in the greater Atlanta area. For more information or to hear a live show, visit: http://www.businessradiox.com.
###