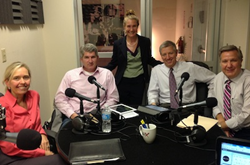 ...your children could inherit 40 to 50% less merely because you died on the wrong day.
Atlanta, GA (PRWEB) October 22, 2012
On Tuesday October 16th, 2012, Elizabeth Gordon, host of Burr & Forman's Results Matter radio on Business RadioX®, was joined in the downtown Atlanta studio by James M. McCarten, a Partner with Burr & Forman, Jason Meadows, Head of the Tax Department and a Partner with Frazier Deeter, Susan Tillery, the President & Co-Founder of Paraklete® Financial, Inc. and John Ellard, CLU, a Principal with Veracore.
The panel was brought in to discuss "Death, Taxes & Change" and specifically the upcoming "fiscal cliff" and it's potential repercussions for individuals and businesses in the area of estate, income and payroll taxes.
The panelists agreed that should the fiscal cliff (an end to the 2001 and 2003 Bush Tax Cuts that have already been extended once) occur agreed that both individuals and businesses will be affected and that the best advice is to talk to your trusted team of advisers. Susan Tillery emphasized that point and said for the most part she is urging her clients to "have an asset allocation and stay the course."
Jason Meadows noted that he is seeing many clients rushing to the closing table on deals before the year end to take advantage of the known current climate as opposed to waiting for the unknown in 2013. He also explained that 90% of Americans will see their taxes rise if the "fiscal cliff" occurs.
John Ellard said he was seeing similar trends with his clients and further explained that his customers desire certainty. He also noted that life insurance will become far more attractive to many people as part of their estate planning if the "fiscal cliff" happens as it is likely to do.
Burr & Forman Partner, Jim McCarten works with many family businesses in his practice, but also advises his individual clients to think of their family business as a "family business". He says of both businesses and individuals, "If you don't plan, you will fail." further explaining that with these upcoming changes and no planning, your children could inherit 40 to 50% less than you had planned "merely because you died on the wrong day".
To learn more about the fiscal cliff as well as the companies and individuals featured in this broadcast, listen to the complete interview on the Results Matter Radio page for Business RadioX®
About Burr & Forman's Results Matter Radio
http://resultsmatterradio.businessradiox.com/
Results Matter Radio brings you pertinent business information and real life solutions to help drive desired results – whatever your business may be. We interview Business Leaders and Trusted Advisors about the most important issues in Commercial Real Estate, International Commerce, Healthcare, Family Business, Corporate Litigation, Finance, Philanthropy, Estate Planning, and more.
About Business RadioX® :
Business RadioX® provides a turnkey solution for business owners who want to leverage the power of internet radio to meet their best prospects, establish credibility for their organization and heighten the placement of their brand in search engines rankings. With a professional venue and a proven formula, Business RadioX® helps hosts podcast their shows and create a regular stream of dynamic content to share with their prospects and feed the search engines every week. Programs are recorded and streamed live to the internet from our studios in the greater Atlanta area.
###