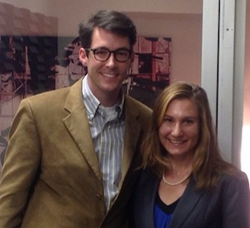 ADDO is one of the few organizations that can legally take groups to Cuba.
Atlanta, GA (PRWEB) November 19, 2012
On Tuesday November 13th, 2012, Elizabeth Gordon, host of Burr & Forman's Results Matter radio on Business RadioX®, was joined by Kevin Scott, the Co-Founder of ADDO Institute, named New Company of the Year at the recent Governor's International Awards.
ADDO Institute was founded in 2011 by Kevin and his partner Garrett Gravesen. Kevin says "Garrett was my mentor in college and since then we have become great friends". While in college, Kevin worked closely with Garrett on the H.E.R.O. for Children campaign which helped children dealing with AIDS.
ADDO was co-founded as a way to develop leaders here in Atlanta and around the world. Kevin explains that "ADDO is the latin word for inspire which means to breath life into something" which is what they are trying to do. ADDO combines leadership curriculum with
Kevin also shared ADDO's three-tiered approach in working with students and adults in leadership development. They call the tiers "Engage, Expose and Equip" and Kevin talked about the fact that many organizations engage and expose students but don't necessarily equip them to become leaders once back in their own environments.
ADDO is one of the few organizations that can legally take groups to Cuba which is one of their most popular programs. Not only do they take student groups, but many adult special interest groups also participate. Anyone can get involved with ADDO. Kevin and Garrett both felt that it was critical that they develop inclusive programs so they have option for leadership training for all levels, all interests, all backgrounds.
To learn more about ADDO Solutions and the Atlanta World Showcase & Governor's International Awards, listen to the complete interview on the Results Matter Radio page for Business RadioX®
About Burr & Forman's Results Matter Radio
http://resultsmatterradio.businessradiox.com/
Results Matter Radio brings you pertinent business information and real life solutions to help drive desired results – whatever your business may be. We interview Business Leaders and Trusted Advisors about the most important issues in Commercial Real Estate, International Commerce, Healthcare, Family Business, Corporate Litigation, Finance, Philanthropy, Estate Planning, and more.
About Business RadioX® :
Business RadioX® provides a turnkey solution for business owners who want to leverage the power of internet radio to meet their best prospects, establish credibility for their organization and heighten the placement of their brand in search engines rankings. With a professional venue and a proven formula, Business RadioX® helps hosts podcast their shows and create a regular stream of dynamic content to share with their prospects and feed the search engines every week. Programs are recorded and streamed live to the internet from our studios in the greater Atlanta area. For more information or to hear a live show, visit: http://www.businessradiox.com.
###