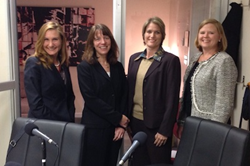 ...girls typically lose interest in science and technology in the 6th grade.
Atlanta, GA (PRWEB) December 03, 2012
On Tuesday November 27th, 2012, Elizabeth Gordon, host of Burr & Forman's Results Matter radio on Business RadioX®, was joined by WIT's Women of the Year in Technology Winners to discuss their careers, their involvement in WIT (Women in Technology) and the importance of exposing girls and young women to careers in technology.
Small Business Winner, Jackie Breiter is the Senior Director and CIO at the Goizueta Business School at Emory University. She was joined on the panel by Medium Business Winner, Lora Weiss, Ph.D, Lab Chief Scientist and Technical Director of Autonomous Systems at the Georgia Tech Research Institute and Enterprise Business Winner Carolyn Holcomb who is a Partner with PricewaterhouseCoopers LLP leading the Risk Assurance Data Protection & Privacy practice.
Each of the women talked about their careers and current work, including Carolyn talking about data security, Lora sharing the current state of robotics and Jackie talking about the differences between working in the corporate sector vs. academia. Jackie also kicked off the conversation on careers in technology and the importance of mentors.
When asked about what she looks for when hiring technology professionals Jackie noted that while it is important to have the coursework and technical aptitude, she really looks for people who have the "whole mind", including the creative and emotional aptitude for the job. She says "a technology career is not just about the tinkering, it's a lot about the people" and adds that you need to be a whole person.
Carolyn noted that women are needed in technology careers because it is important to have a "diversity of thought". She also talked the importance of getting young girls exposed to technology careers early and commended organizations like WIT and the Girls Scouts for doing that.
Lora mentioned that girls typically lose interest in science and technology in the 6th grade and emphasised how important it is to keep them engaged so that we don't lose half the population interested in those important kinds of careers. She also said much of this STEM (Science, Technology, Engineering and Math) education has to happen outside of the classroom because teachers just don't have time to dedicate to really making STEM fun and engaging for kids who may be starting to veer away.
To learn more about Women in Technology and this year's winners, listen to the complete interview on the Results Matter Radio page for Business RadioX®
About Burr & Forman's Results Matter Radio
http://resultsmatterradio.businessradiox.com/
Results Matter Radio brings you pertinent business information and real life solutions to help drive desired results – whatever your business may be. We interview Business Leaders and Trusted Advisors about the most important issues in Commercial Real Estate, International Commerce, Healthcare, Family Business, Corporate Litigation, Finance, Philanthropy, Estate Planning, and more.
About Business RadioX® :
Business RadioX® provides a turnkey solution for business owners who want to leverage the power of internet radio to meet their best prospects, establish credibility for their organization and heighten the placement of their brand in search engines rankings. With a professional venue and a proven formula, Business RadioX® helps hosts podcast their shows and create a regular stream of dynamic content to share with their prospects and feed the search engines every week. Programs are recorded and streamed live to the internet from our studios in the greater Atlanta area. For more information or to hear a live show, visit: http://www.businessradiox.com.
###