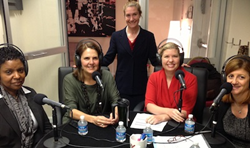 ...women are often more holistic than men in their approach to business and life.
Atlanta, GA (PRWEB) December 17, 2012
On Tuesday December 11th, 2012, Elizabeth Gordon, host of Results Matter radio on Business RadioX® was joined by Teresa Hargrave, a Partner with Charter Oak Consulting Group and Chapter Chair of Atlanta's Women Presidents' Organization along with Kathie Gottlieb, a principal with AGH, LLC, Suzanne Durbin, a partner with GV Financial Advisors, and Phyllis Newhouse, President and CEO of Xtreme Solutions, Inc. to talk about their careers, the WPO and the differences single gender and co-gender professional groups.
Teresa Hargrave is the Chapter Chair of a new Atlanta chapter of the Women Presidents' Organization, a new chapter of a group that has been established nationally for women presidents, CEO's, managing directors and partners of privately held multi-million dollar companies. She led off the discussion by noting that "of all businesses started by women, only 3% grow to the million dollar level."
She explained that because of this many women feel that it is "lonely at the top"and find they don't know many other women who can directly relate to the kinds of issues they deal with professionally.
Suzanne Durbin agreed saying that "women are often more holistic than men in their approach to business and life" and added that for her the members of WPO are like and external board of directors.
Teresa explained that confidentiality is one of the tenets of the group and that they also limit each chapter to twenty members and that no two members of any single chapter will be from the same industry. This allows members to speak freely without worrying about tipping off the competition. Phyllis Newhouse and Kathie Gottlieb joined the conversation saying that the confidentiality was key for them and explained that the group was not about networking or advising but about sharing information.
To learn more about Women Presidents' Organization and the members featured on the show, listen to the complete interview on the Results Matter Radio page for Business RadioX®
About Burr & Forman's Results Matter Radio
http://resultsmatterradio.businessradiox.com/
Results Matter Radio brings you pertinent business information and real life solutions to help drive desired results – whatever your business may be. We interview Business Leaders and Trusted Advisors about the most important issues in Commercial Real Estate, International Commerce, Healthcare, Family Business, Corporate Litigation, Finance, Philanthropy, Estate Planning, and more.
About Business RadioX® :
Business RadioX® provides a turnkey solution for business owners who want to leverage the power of internet radio to meet their best prospects, establish credibility for their organization and heighten the placement of their brand in search engines rankings. With a professional venue and a proven formula, Business RadioX® helps hosts podcast their shows and create a regular stream of dynamic content to share with their prospects and feed the search engines every week. Programs are recorded and streamed live to the internet from our studios in the greater Atlanta area. For more information or to hear a live show, visit: http://www.businessradiox.com.
###