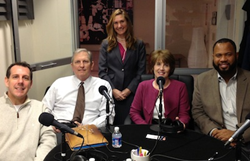 ...most small business owners don't take time to think about the day they'll want to sell their business.
Atlanta, GA (PRWEB) December 26, 2012
On Tuesday December 18th, 2012, Elizabeth Gordon, host of Results Matter radio on Business RadioX® and Burr & Forman Associate Harvey Daniels were joined by Georgia Association of Business Brokers (GABB) board members Kathryne A. Pusch and Mike MacManus of ConsultKAP, Inc. and Eric Gagnon of We Sell Restaurants to talk about the complexities of buying and selling businesses.
Kathryne Pusch, President of ConsultKAP, Inc., is a seasoned professional consultant and broker and is the 2003 past-President of GABB.
She has been active on Board and leadership positions since 1998. She noted that "most small business owners are focused on running their businesses and they don't take time to think about the day they'll want to sell their business or transition it to the next generation." She says this approach can lead to disappointment when it is time to sell or transition and says that businesses should be thinking about their exit strategy at the very beginning.
Mike MacManus, who works with Kathryne at ConsultKAP and is also a board member with the Georgia Association of Business Brokers agrees but he warns that business owners need to be careful about the business broker they choose to work with. The only legal requirement for a business broker is a real estate brokers license which does not necessarily qualify someone to do the best job helping you buy or sell a business. He notes that verifying that the broker you choose has specific experience is key and explains that when brokers are members of GABB, you can be assured that they are the real deal.
Eric Gagnon, President of We Sell Restaurants wesellrestaurants.com and another Past President of the Georgia Association of Business Brokers joined the conversation to talk about the specific intracacies of buying and selling restaurants along with some of the ways people can use their 401Ks without penalty to invest in their own business.
Burr & Forman Attorney Harvey Daniels, who is also a restaurant owner, talked about the work he does on the legal side of business transactions and said that managing his clients expectations about the value of their business or of a business they are interested in buying is always a challenge.
To learn more about the Georgia Association of Business Brokers and the members featured on the show, listen to the complete interview on the Results Matter Radio page for Business RadioX®
About Burr & Forman's Results Matter Radio
http://resultsmatterradio.businessradiox.com/
Results Matter Radio brings you pertinent business information and real life solutions to help drive desired results – whatever your business may be. We interview Business Leaders and Trusted Advisors about the most important issues in Commercial Real Estate, International Commerce, Healthcare, Family Business, Corporate Litigation, Finance, Philanthropy, Estate Planning, and more.
About Business RadioX® :
Business RadioX® provides a turnkey solution for business owners who want to leverage the power of internet radio to meet their best prospects, establish credibility for their organization and heighten the placement of their brand in search engines rankings. With a professional venue and a proven formula, Business RadioX® helps hosts podcast their shows and create a regular stream of dynamic content to share with their prospects and feed the search engines every week. Programs are recorded and streamed live to the internet from our studios in the greater Atlanta area. For more information or to hear a live show, visit: http://www.businessradiox.com.
###