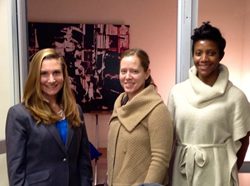 Atlanta, GA (PRWEB) January 15, 2013
On Tuesday January 8th, 2013, Elizabeth Gordon, host of Results Matter radio on Business RadioX® and producer Dana Barrett, were joined by Hub Atlanta Founder and Managing Partner Michelle Morgan and Janelle Jolley, the founder of Sidewalk District to talk about their businesses and the climate for growing a business and getting it funded in Atlanta.
Michelle Morgan is the founder of Hub Atlanta, a shared workspace and accelerator for businesses that seek to make the world a better place. Since founding the Hub in 2009, Michelle has built a unique set of programs and partnerships that include a mentor network, unique interactive programs for early stage entrepreneurs and relationships with incubator and accelerator programs in the region.
Janelle Jolley was attending grad school when she serendipitously found herself in the tech world, because she was trying to solve a problem. She wanted to make local shopping easy and convenient for everyone. It's been a wild ride, but after more than a year of working on her startup full time, Sidewalk District will we be launching its private beta in February with the goal of providing online access to consumers who want to shop locally and an easy way for local business with limited time and budget to compete online.
Both women talked about their businesses and their backgrounds, shared their plans for growth and talked about the challenges of finding much needed capital.
To learn more about the Hub Atlanta and the guests featured on the show, listen to the complete interview on the Results Matter Radio page for Business RadioX®
About Burr & Forman's Results Matter Radio
http://resultsmatterradio.businessradiox.com/
Results Matter Radio brings you pertinent business information and real life solutions to help drive desired results – whatever your business may be. We interview Business Leaders and Trusted Advisors about the most important issues in Commercial Real Estate, International Commerce, Healthcare, Family Business, Corporate Litigation, Finance, Philanthropy, Estate Planning, and more.
About Business RadioX® :
Business RadioX® provides a turnkey solution for business owners who want to leverage the power of internet radio to meet their best prospects, establish credibility for their organization and heighten the placement of their brand in search engines rankings. With a professional venue and a proven formula, Business RadioX® helps hosts podcast their shows and create a regular stream of dynamic content to share with their prospects and feed the search engines every week. Programs are recorded and streamed live to the internet from our studios in the greater Atlanta area. For more information or to hear a live show, visit: http://www.businessradiox.com.
###