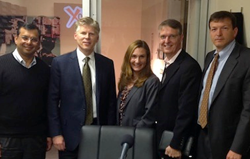 ...the job of a CEO is a lonely job.
Atlanta, GA (PRWEB) February 25, 2013
On Tuesday February 19th, 2013, Burr & Forman Partner Greg Harley and Elizabeth Gordon, host of Results Matter radio on Business RadioX® were joined by Glenn McGonnigle, General Partner at TechOperators, Raj Rajan, co-founder of Virima and Peter Baron, a principal of Carabiner Communications to talk about the Atlanta CEO Council which focuses on the tech sector in Atlanta and to drill down into the current business climate in that sector.
For more than 10 years, the Atlanta CEO Council has provided an exclusive opportunity for technology company C-level executives to connect.
The organization invites tech executives to exclusive events for the purpose of developing relationships, promoting entrepreneurship and investing in the community.
Palaniswamy "Raj" Rajan is co-founder of Virima, the world's first IT Business Operations Automation software and a former Chairman of the Board for the Atlanta CEO Councel. Prior to starting up Virima, Mr. Rajan was the cofounder, President and CEO of Vigilar, Inc, a leading network security technology firm. A highly versatile entrepreneur, he has co-founded several ventures, including eLaunchpad, an early-stage venture capital firm/incubator focusing on Internet infrastructure and network security technologies, Emerald Systems, a boutique technology consulting firm, and ResourcIS, an IT recruiting firm. Mr. Rajan serves on the Board of Directors of the above companies and on the advisory boards of several early-stage technology firms nationwide. During the interview Raj explained the need for C level execs to meet with their peers and talked about how valuable the organization has been to him.
Glenn McGonnigle agreed saying, "the job of a CEO is a lonely job." He further explained that no matter how much you like your management team and employees there are just things you should not discuss with them.
Glenn is a General Partner at TechOperators, and early stage investment group that focuses on applying capital and the practical experience of its partners to help entrepreneurs build great technology companies. Prior to launching TechOperators, Glenn was Chairman and CEO of Atlanta-based VistaScape Security Systems and was a co-founder and top executive of Atlanta-based Internet Security Systems (ISS) where he helped raise initial venture capital and launch the business.
Peter Baron, a principal with Carabiner Communications, also joined the discussion and added his views from a marketing and PR perspective. He explained that the Atlanta CEO Council is a "true peer group" and the while many networking events are too big and "too full of people trying to sell you something", Atlanta CEO Council is designed and operated to facilitate solid relationships that will truly help business grow and executives flourish.
To learn more about the Atlanta CEO Council and the members featured on the show, listen to the complete interview on the Results Matter Radio page for Business RadioX®
About Burr & Forman's Results Matter Radio
http://resultsmatterradio.businessradiox.com/
Results Matter Radio brings you pertinent business information and real life solutions to help drive desired results – whatever your business may be. We interview Business Leaders and Trusted Advisors about the most important issues in Commercial Real Estate, International Commerce, Healthcare, Family Business, Corporate Litigation, Finance, Philanthropy, Estate Planning, and more.
About Business RadioX® :
Business RadioX® provides a turnkey solution for business owners who want to leverage the power of internet radio to meet their best prospects, establish credibility for their organization and heighten the placement of their brand in search engines rankings. With a professional venue and a proven formula, Business RadioX® helps hosts podcast their shows and create a regular stream of dynamic content to share with their prospects and feed the search engines every week. Programs are recorded and streamed live to the internet from our studios in the greater Atlanta area. For more information or to hear a live show, visit: http://www.businessradiox.com.
###