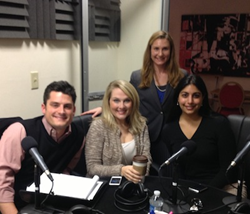 LEAD Atlanta's programming is based on the Leadership Atlanta programming but specifically aimed at the 26-32 age group and focused on community involvement.
Atlanta, GA (PRWEB) April 01, 2013
On Tuesday March 26th, 2013, Elizabeth Gordon, host of Results Matter radio on Business RadioX® and Producer Dana Barrett were joined in the downtown Atlanta studio to by LEAD Atlanta 2013 Class members Anna Ruth Williams, Kashi Sehgal and Brad Stevens to discuss the program, its importance to Atlanta and its community service angle.
Anna Ruth Williams is the founder AR|PR which is a public relations and integrated marketing firm providing brand and audience engagement strategies to B2B and B2C technology companies. Prior to founding AR|PR, Anna Ruth managed communications for national and international accounts and high-profile political figures and has a proven record of executing strategic online marketing campaigns and securing national media coverage.
Active in the community, Anna Ruth is a Kate's Club Ambassador and serves as co-chair of the American Foundation for Suicide Prevention's Atlanta Chapter.
During the interview Anna Ruth discussed the problems many tech startups with getting the word out. She says many tech startups "are succeeding, but not messaging." and she stressed the importance that the right messaging can have on future growth. She also shared her experiences with LEAD Atlanta including the opening retreat and on-going meetings and immersion activities. She says she was initially concerned about getting in a room with 50 other type A personalities but says now she has 50 people who will "have my back for the rest of my career."
Kashi Sehgal is Co-Founder and CEO of Gigabark, a mobile messaging company specializing in phone, text, and survey broadcasts and custom solutions. She serves as a Board Member of Georgia's WIN List, and as a member of the Fulton County Career & Technical Education Advisory Council. A co-founder of two non-profits , Music For Tomorrow and Mentor Walk, Kashi serves as Executive Vice President of the Campus Community Partnership Foundation and CEO of KTrain, her consulting company.
Kashi discussed the services Gigabark provides as well as talking about her non-profit work and her experience with LEAD Atlanta. She says the biggest things she learned during her LEAD Atlanta year is to "be flexible and delegate".
Brad Stevens is the President and co-owner of Whiter Image, LLC, an international manufacturer and distributor of professional and consumer teeth whitening products for the dental and beauty industries. He is on the board of Achievers International and co-founded an annual charity that supports the Breast Cancer Survivors Network.
During the show, Brad explained that LEAD Atlanta's programming is based on the Leadership Atlanta programming but specifically aimed at the 26-32 age group and focused on community involvement.
All three talked about their experiences on "ride-alongs" with Atlanta Fire, and to places like the Fulton County Jail and to Georgia landfills and how much they learned from those experiences.
To learn more about the LEAD Atlanta, listen to the complete interview on the Results Matter Radio page for Business RadioX®
About Burr & Forman's Results Matter Radio
http://resultsmatterradio.businessradiox.com/
Results Matter Radio brings you pertinent business information and real life solutions to help drive desired results – whatever your business may be. We interview Business Leaders and Trusted Advisors about the most important issues in Commercial Real Estate, International Commerce, Healthcare, Family Business, Corporate Litigation, Finance, Philanthropy, Estate Planning, and more.
About Business RadioX® :
Business RadioX® provides a turnkey solution for business owners who want to leverage the power of internet radio to meet their best prospects, establish credibility for their organization and heighten the placement of their brand in search engines rankings. With a professional venue and a proven formula, Business RadioX® helps hosts podcast their shows and create a regular stream of dynamic content to share with their prospects and feed the search engines every week. Programs are recorded and streamed live to the internet from our studios in the greater Atlanta area. For more information or to hear a live show, visit: http://www.businessradiox.com.