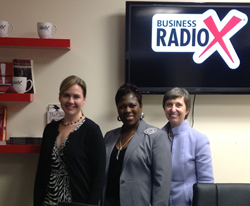 ...you should always try the doorknob, even if someone tells you the door is locked.
Atlanta, GA (PRWEB) April 06, 2013
On Tuesday April 2nd, 2013, Dana Barrett, host of Results Matter radio on Business RadioX® was joined in the downtown Atlanta studio to by Women's Leadership Forum advisory board members Julie Bryant Fisher, Leona Barr-Davenport and Ann Cramer to discuss the day long event held annually in Atlanta.
Julie Bryant Fisher is currently the Senior Manager of Communications & Marketing for the Metro Atlanta Chamber in addition to being on the advisory board for the Women's Leadership Forum. She is an award winning journalist, writer and broadcaster and has nearly 20 years of media experience working across the fields of print news, radio, television and public relations.
In her current role, she oversees communications, media and marketing strategy for the economic development team, coordinating multiple industry sectors to steer communications initiatives, media relations, original marketing collateral and new visibility opportunities for MAC-led initiatives.
Leona Barr-Davenport, also on the board of advisors for the Women's Leadership Forum, currently serves as President & CEO of the Atlanta Business League (ABL), Atlanta's oldest minority business development and advocacy organization. As such, she works with the board of directors to provide increased access to business opportunities for minorities with specific emphasis on the development of businesses owned or operated by African-Americans. Her background combines more than thirty years experience in the areas of customer service, program development, organizational management & fundraising for associations and youth oriented programs.
Ann Wilson Cramer has been with Women's Leadership Forum since its inception 15 years ago and is currently on the board of advisors. She is also a Senior Consultant with Coxe Curry & Associates. In this role, she provides strategic consultation to nonprofit clients to strengthen their capacity in the critical areas of board development, volunteer engagement, corporate relations and fundraising. Prior to joining Coxe Curry, Ann served as Director for IBM Corporate Citizenship and Corporate Affairs for the Americas.
The three panelists discussed the history of the Forum as well as how speakers and content are developed. They talked about the value of bringing women together and how much the Forum has impacted each of them individually. Julie Bryant Fisher noted, "We've come a long way, but we still have a lot more to do." She also talked about how meaningful the support of professional women has been for her, especially coming back to work as a mother.
Leona shared some wisdom she has gathered over the years such as "you should always try the doorknob... even if someone tells you the door is locked." And Ann shared memories from the 15 years of Forum history and shared her passion for the gathering and the lasting benefits from the day.
The three panelists then joined Dana in a discussion about women in the workplace today and talked about why two of the top women in business, Marissa Mayer of Yahoo and Sheryl Sandberg of Facebook, were causing such a stir.
To learn more about the Women's Leadership Forum, listen to the complete interview on the Results Matter Radio page for Business RadioX®
About Burr & Forman's Results Matter Radio
http://resultsmatterradio.businessradiox.com/
Results Matter Radio brings you pertinent business information and real life solutions to help drive desired results – whatever your business may be. We interview Business Leaders and Trusted Advisors about the most important issues in Commercial Real Estate, International Commerce, Healthcare, Family Business, Corporate Litigation, Finance, Philanthropy, Estate Planning, and more.
About Business RadioX® :
Business RadioX® provides a turnkey solution for business owners who want to leverage the power of internet radio to meet their best prospects, establish credibility for their organization and heighten the placement of their brand in search engines rankings. With a professional venue and a proven formula, Business RadioX® helps hosts podcast their shows and create a regular stream of dynamic content to share with their prospects and feed the search engines every week. Programs are recorded and streamed live to the internet from our studios in the greater Atlanta area. For more information or to hear a live show, visit: http://www.businessradiox.com.
###