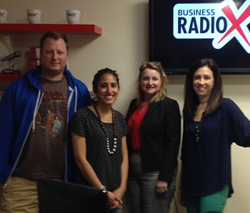 Foursquare Day is April 16th in Atlanta.
Atlanta, GA (PRWEB) April 15, 2013
On Tuesday April 9th, 2013, Elizabeth Gordon, host of Results Matter radio on Business RadioX® and producer Dana Barrett were joined in-studio by Jasmine Maleknia, Director of Digital Marketing at What's Up Interactive and Chad Elkins, Community Founder and Organizer of 4sqATL along with Susan Proper from AIA Atlanta to talk about some exciting events taking place in Atlanta this month.
Chad and Jasmine focused on Foursquare Day which will be held on April 16th here in Atlanta. This is the fourth annual Foursquare Day which Chad has been instrumental in putting together. The day includes check-in specials all over town and a blowout party at 5 Seasons Brewing Company on the Westside. The team at What's Up Interactive is helping to promote the event.
Chad talked about being an early adopter of Foursquare and how the first Foursquare Day in Atlanta turned into the robust yearlong users group that he now heads up.
Jasmine talked about the benefit of leveraging Foursquare for certain kinds of businesses and discussed how she and the team help clients come up with a detailed digital marketing plan including social media.
Susan Proper of AIA Atlanta (American Institute of Architects) joined the group to talk about URBANfronts Storefront Galleries Atlanta. URBANfronts is essentially a pop-up gallery and series of events taking place throughout Midtown Atlanta. Launched during National Architecture Week, URBANfronts runs April 7 – 20, 2013. Susan explained that idea is to activate empty retail space by temporarily altering the urban landscape to reflect the visions of up-and-coming artists through visual, audio and kinetic movement mediums.
To learn more about the Foursquare Day and URBANfronts, listen to the complete interview on the Results Matter Radio page for Business RadioX®
About Burr & Forman's Results Matter Radio
Results Matter Radio brings you pertinent business information and real life solutions to help drive desired results – whatever your business may be. We interview Business Leaders and Trusted Advisors about the most important issues in Commercial Real Estate, International Commerce, Healthcare, Family Business, Corporate Litigation, Finance, Philanthropy, Estate Planning, and more.
About Business RadioX® :
Business RadioX® provides a turnkey solution for business owners who want to leverage the power of internet radio to meet their best prospects, establish credibility for their organization and heighten the placement of their brand in search engines rankings. With a professional venue and a proven formula, Business RadioX® helps hosts podcast their shows and create a regular stream of dynamic content to share with their prospects and feed the search engines every week. Programs are recorded and streamed live to the internet from our studios in the greater Atlanta area. For more information or to hear a live show, visit: http://www.businessradiox.com.